Homeless but Hopeful
February 21, 2012
When the kind warm sun peeked through the shadows of the misty alley, I knew it was time to begin my hunt. I weakly rose from the damp newspapers and unraveled my sweet boy from his rags. I was quickly running short of material to replace his soiled bundles. His innocent rosy cheeks were cold as night and his tiny ribs were beginning to show. As I cradled six month old Mathew, he began to fuss. A small tear escaped my eye and drizzled down onto my cracked lips. The sweet salty drop only made me hunger for food even more.

I gathered the remaining rags and scooped little Mathew into my grimy arms. As I slowly stepped through the passageway, I came across the towering city dumpsters. A horrid odor of rotten milk and rotting carcass filled my runny nose. I had been used to the awful stench ever since he brutally beat and threw me to the streets. I would have never imagined that a companion of love would be so crazed in alcohol.

As I swiped my tangled locks behind my ears I began rummaging for food. The bins were old and rusty. It felt as if I were sliding my hands across sandpaper. I managed to find a slice of moldy bread, and remaining cereal crumbs at the bottom of the large tub. It wasn't much, but the leftovers were enough to keep us alive. After crawling out of the garbage, I brought my prize back to our den. I entered the rotting box and kissed Mathew on the head. His new born eyes dazed up at me in confusion. As I peered down at the moldy bread I began to cry. I ripped a chunk off and began to chew.

Only seconds had past until I spit the clump into my hands. The grit remained within my teeth, and the smell was utterly unpleasant. I could barely watch as I force fed my child the substance. He had to choke it down, even if it was a horrible substitute for formula. He squirmed and began to cough up small chunks. I was heartbroken of what our family had become, but I knew that as long as I kept my little boy alive, I myself could survive.

Although everything had been destroyed, I still had hope inside my heart. Another tear ran down my cheek and splashed gently upon my only child. I glanced down at his restless face. I then leaned in and gave him another kiss on the forehead. As long as we had each other, I knew everything was going to be alright.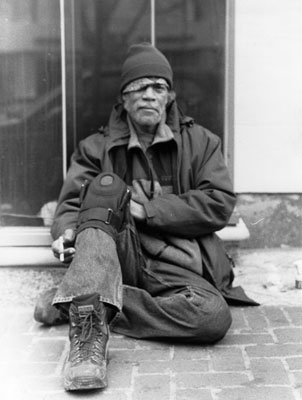 © Marie D., McLean, VA