The Breakup
February 21, 2012
When she looked upon his cold drawn face, she knew something was wrong. His strong but tender hand slowly reached out to find hers. She gazed into his troubled eyes; dark green pools that almost promised disappointment. She grasped tightly onto his warm body and buried her face into his cotton hooded sweatshirt The smell of sweet cologne took her breath away. Standing next to him, she was the timid flower and he was the gentle tree.

His short brown hair swayed in the night breeze and his cheeks turned a rosy red from the bitter cold air. He seemed emotionless; almost as if he were dead. His soft cold lips sweetly pecked her cheek. Her eyes instantly welled with tears of rejection and denial. A small stray drop soaked into the cotton of his sweater, but she remained at ease as she forced her tears back. She knew he was saying his final goodbye.

She could almost taste the spearmint on his breath as he opened his mouth to utter the last words. He slowly backed away from her; left now as a broken flower hugging what was now unreal. His expression soon became a puzzle before her eyes. A thousand whispers claimed he still loved her, but his appearance closed the deal. Her head calmly faced the ground as whips of chestnut strands covered her sight. Disappointment consumed her, but she gathered the remains of her broken heart and managed to find shelter.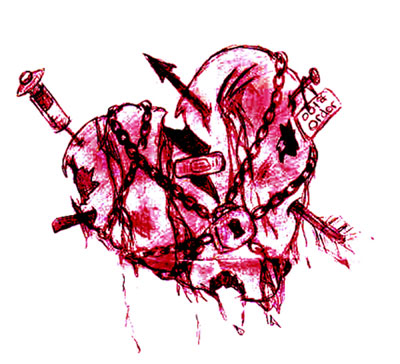 © Asia B., Hudson, MA