untitled
January 11, 2012
I stand here in front of the crowd, my thoughts spinning rapidly in my head. If I could see, I'm sure I would be even more nervous then I am already. The Moment is creeping closer with every second.
I try to adjust my shirt without getting anyone's attention. My mother told me to tuck it in, but I imagine that would just look silly. I'm pretty sure she's sitting there in the front row, making sure she'll be able to see everything.
But enough about that…well, maybe thinking about other things will make me less nervous. I notice my knees shaking, but my feet remain steadfast and unmoving. I can only guess what my face looks like…
What is it that bothers me so much about my outward looks and appearance? Why should I care how I look like? That's not what matters, anyways, what really matters is how I perform, no, what matters most is my personality. Maybe I can give them a glimpse of who I am through how I act, not how I look…
Oh, how I wish they would just stop judging books by their covers…it happens to us all. I guess judging someone by their looks can be good in some situations, for instance, when you're looking for a police officer, you'll know one right away by their uniform. But just because I'm different than them all doesn't mean I should be shunned. Not that I should care, of course. It's not looks that matter, after all.
Oh, look at that. It's my time to start. I know those opening notes only too well – it means I need to step forward. The Moment is here.
I can feel the heat of the spotlight as I step forward, once, twice, three times. The crowd is completely silent. No doubt it's because of how I look. They weren't expecting to see this when they decided to come to the show. I open my mouth, and the notes come out, shy, at first, then building to a sweet crescendo. I start to smile.
Who cares about looks, I think to myself.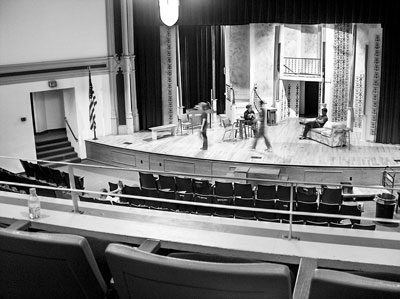 © Sean C., Princeton, IL