The Creative Process
January 6, 2012
"You're doing it all wrong." She points out frankly.

"What would you know? I'm in charge anyway." I say, but find myself scribbling out the last paragraph of my notebook. I sigh. "How would you have me do it?"

She grins through her curtain of long black hair. "The hero should never die."

I scoff at her. "Some of the greatest stories ever have a dying hero, Macbeth, Romeo and Juliet…" I trail off, unable to think of any besides Shakespeare tragedies.

"I'm not like them." She states.

"Oh? You're not? My mistake," I laugh. "This whole story is a tragedy. Tragedies don't end with happily ever afters."

"Why can't they?"

"Because they're not tragic then."

"Then I refuse to be part of your tragedy."

"Oh, you just don't want to die. You're not even real." I slam my notebook shut and she vanishes. I need something new, I think, something way out of my comfort zone.

"Hello?" And there he is, tall, very handsome, and lonely. The best part, not female. I'm so sick of female characters. They get so whiny and difficult.

"Hi, you're Karl Undermin, right?"

He sighs. "If you say so." Now I can't get over how handsome he is. I'm always afraid of pretty characters. With girls they'll be either too vain or too oblivious of their beauty. I either way I end up wanting to strangle them.

"What am I going to do with you?" I ask, mostly myself, although I know he hears me. Suddenly I'm afraid that he's too perfect. I hate the "do no wrong characters too". I feel the urge to make him rich and arrogant, but that would be too easy and clichéd.

"There's not much, anyone can do. I have to be dying to make a story out of me." He shrugs.

"Ugh," I groan. "I'm sick of sad tragedies. Death, crying, mourning, I've done too much. I need a happy story."

"Then there's not much use for me."

I stare at his face, in a few moments he's grown on me. He's humble, charismatic, I could even make him charming. He still needs a flaw. Frustrated, I groan. "Just give me a minute, I find you when I'm ready."

He's about to leave, when it hits. As, if a light bulb actually appeared above my head a bolt up. "I've got it."

"What?" He seems eager to know who he is.

"It's better if you don't know yet." I fly through my notebook to an empty page and scribble down as much as I can as fast as I can, bringing to life Karl Undermin."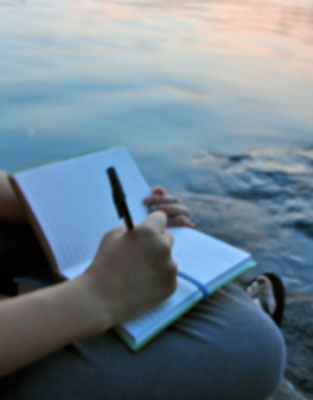 © Grace K., Port Washington, NY