Surprise Return
December 4, 2011
I couldn't believe it. I really was back in Dry Creek. I drove around the old,
familiar places. Nothing much had changed. There were still tire marks outside
the Montgomery's country store from the frowned upon drag race of '08. The rain
still hadn't washed away the mural (or act of vandalism depending how you look
at it) my best friend, Sally, painted on the broken train car in seventh grade.
This little town used to be our safe haven. I left my car by the gas station and
ambled down the block to the park. I gazed nostalgically at the walking trail,
tattooed with hand prints my ninth grade class left three years ago. Was it
really just three years? It felt like a lifetime away. Just fourteen short
months after the hand prints was when everything changed. I never would have
expected to be graduating without my best friends the day Jason and Lance left
those tire marks. I didn't know that my life would never be the same after
finishing my sophomore year.

I wasn't scared, nervous, or worried about today like I anticipated. Shockingly
tranquil, I loped to the less populated area of the park like I had so many
times before. I leaned against my favorite oak tree (nicknamed Slim Shady in
fourth grade) and waited. He would be there any minute.

We hadn't seen each other since tenth grade. He didn't even know I was here. I
had not tried to contact him. He had done the same. The way he decided to leave
things made it hard to reach out. The first year without him was agonizing. He
was my everything. My life revolved around his presence and the happiness he
gave me. He was such a vital light in darkness I was surrounded by. But someone
put him out. He became distant. SHE started controlling him and nothing would
ever be alright again. He was gone. Now, here he comes.

I got a smidgen of satisfaction from the blatant astonishment that was splattered
across his face. Before, he was casually strolling toward his usual place, but
now he proceeded with caution. As he approached, my mind was still serene. I was
cool, calm, and collected. He shouldn't be. "Hello, Livy," he said, clearing his
throat. "Hey." I was full-on smirking.

He sat there humming to himself for the longest time. He baffled me, as usual.
We were isolated, in the far corner of the park. Just the two of us, just like
old times. I leaned back against the massive oak tree again and sank down to my
knees. He still hummed. I ogled at him, unashamed. How could I not? Ebony hair
drifting easily above his eyes and cut short in the back. His wiry frame
slouching, lazy and relaxed. I could see the confidence he typically emitted
being shoved to the side by unsure feelings brought on by my reappearance. He
had strong looking hands. Had he actually been doing laborious work? Finally, my
stare drifted back up. I saved the best for last. His eyes. Dark, brooding,
startlingly blue. I could sink deep into the depths of the ocean in his eyes.
Dependable. That's what this exterior of his meant to me. At least, it did.

Because he sat on the bench while I was on the ground, I looked at him in a new
way. I had passed him up years ago. I wasn't used to being below him, in any
sense. Not now. I was the one who used to do his laundry for him. I made sure he
packed his lunch and fixed his hair when he wouldn't take care of it himself.
My younger age hadn't made a difference. That was just how it worked. I patted
his knee like I did when Mom was having a moment. He needed comforting. He
hadn't been expecting me. Gosh, I hadn't expected to come home ever again. Yet,
here I was, confronting the one person who was once my one and only ally in our
troubled home. Mom never wanted me to find him. She sent me away, knowing he
didn't have the independence to seek me out. So I did the seeking.

"So, Dad, how have you been?"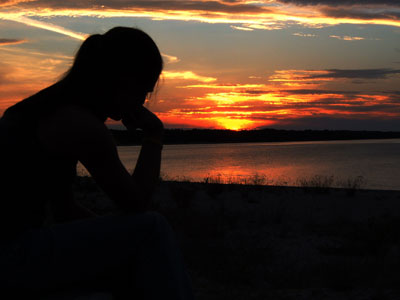 © Hilary L., Rogers City, MI