ABC's of a Young Girl
June 5, 2011
A young girl lives in a small town. Before you head up ***** ******** Road take a left. Climb up the steep road for about * miles. Down the road from the blueberry bushes is this girl's house. Even though her house is still a work in progress, she still lives there comfortably.

For 3 years she has lived there. Growing up in a small town, close to lots of nature, this young girl has grown to love fresh air. Her life would be rough if she wasn't around trees and the calls of nature. Instead of taxies and apartment buildings she is used to old oaks and chirping birds.

Just a short 2 minute walk from her grandfather's house, this young girl can stay close to her family. Keeping a close eye on her surroundings, this girl will walk over and absorb the fresh air. Laughing and running with her small dog, picking vegetables from the garden, or even just lying in the grass and watching the clouds with her sister. Mind always open for new activities, this girl just loves to have fun.

Not very good at giving things up, this girl has dreamed of being a writer ever since first grade. On the outside she seems like a shy, active, country girl, but though her writing, this girl expresses herself in so many ways. People usually think reading and writing are boring, but not to this girl. Questioningly, people ask her why she is so interested. "Right now." She says "My world is already like a story. All its needs is to be written down." So people smile and the young girl goes on her way.

This young girl has a great life. Upper-class grades plus sports and band credits and hoping of going to NMH, this girl dreams big. Very well on her way to becoming a successful person no matter what she does, this girl wants her life at its fulliest. Whatever she has in her future, you can bet that she will achieve her goals. Xerography, teaching or writing, this girl will be able to succeed. Years of hard work, support of her family and love from her friends and neighbors will help this girl go on her way. Zoe is this girl's name, also known as me!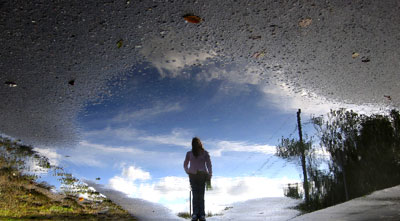 © Daniel H., Oak Bluffs, MA