Summer Secrets
May 11, 2011
Grabbing The worn rope, I slowly climbed my way to The top. I climbed in Through The wooden window and dropped down on to The warm floor.
"Caitlyn, are you coming?" I looked down Through The window to see Caitlyn snickering. She grabbed The rope and climbed in with me.
"Ha! Coming!" She started to laugh. I giggled along with her.
"You perv!" I jokingly smacked her arm and laughed. Looking out The window, I pulled The rope in to The tree house and sat back down. My floral tank top was smocked in sun. My black low-top converse were encrusted with dirt. I inhaled warm air and teased my pony tail.
"So?" Caitlyn looked at me.
I looked back at Caitlyn and adjusted my bra strap.
"9Th grade is next year," I blurted out unknowingly.
Caitlyn nodded knowingly and added, "Yeah.. The big leagues." I laughed nervously.
I knew inside That summer would end and we'd be leaving off to different high schools. Soon, These precious moments would become faint memories that were barely there. I sighed heavily.
"I'm not ready to go." I had the courage to look at her. Caitlyn's face was just like mine.
So there we sat, in my tree house, enjoying the little moments of summer. Soaking up the last sun drops and feeling the way anyone should feel.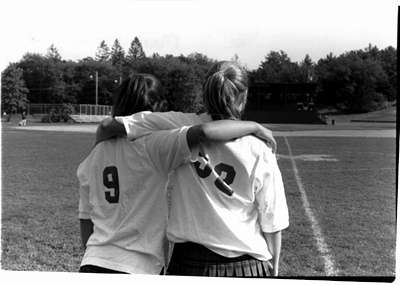 © Kelley C., Marblehead, MA