Dirty Fingernails
April 23, 2011
My fingernails are always dirty. It seems pointless to spend more than two minutes cleaning them when they get dirty again in no time at all. I have to continuously dig them into the ground. It's my own personal therapy, climbing. I try to get as high as I can. I want to touch the sky. It's addicting, trying to get to the top. I know in my heart that I'll never really be able to touch the sky as something tangible. Maybe I just like setting goals that I know I can't reach.

My thoughts are always the same thing. It seems silly to commit loads of time to thinking about important topics. They are always overcome by the same incessant wondering. No matter what I do I can't stop thinking about it. I'm addicted to a person I can never know. I want to talk to him. I need to learn about where he came from. Yet, there's a distinct possibility I made him up in my head. I tend to do that. Maybe I find satisfaction in taunting myself with impossibilities.

My friends always repeat their opinions. It seems odd that they should want to take so much interest in my life. After all, why would they want to start caring now? I typically try to change the subject without them realizing it. It sometimes works, playing this game in their heads. There will never be a true winner, however. If I win, I lose. If they win, I don't win. I tend to set myself up for failures like this.

There are days when I know I can't help myself. I let myself drift off into hopeless dreaming. It seems like a crime, dreaming. Why would I want to implant ideas in my head of things that I, me, a useless girl, would be able to accomplish? I can't accomplish. I can't win. I will always fail.

I'll never be able to touch the sky.

Now, after all this time, I sit on my bedroom floor looking at my fingernails. I contemplate cleaning them. A silly thing to do, this treat; they will just get dirty again tomorrow.
Yet, for the first time in a while, I remove the dirt and grime.

I smile. I dream. I wonder.

And today, just for today,
I don't feel bad.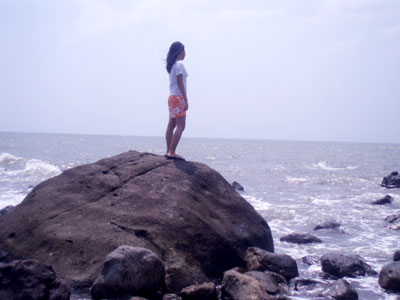 © Grace L., Bacolod City, Philippines