Please, Control Your Thoughts
April 10, 2011
Don't look. Don't look. I'm telling you, you don't want to look!
Shoot. You looked. Are you happy now? Did that make you feel better?
No, of course not. You saw exactly what you saw the last time I told you not to look.
You saw him not looking. Yeah, ouch. Not looking again.
Lame, I agree.
But if you keep creepily staring him down every chance you have this is what will come of it.
Again and again and again
I said don't look!
Jeez. Are you trying to burn your eyes out?
Honestly.
Let's have some consideration for the people who can't control the situation
I just have to tag along with whatever you do.
How does that make you feel?
Actually, I know how that makes you feel.
I feel the same way.
So stop being delusional and do something productive with your time.
Did you really just look there again?
He's going to think you're a stalker.
Gazing at him all the time and all.
You caught his eye that one time, but that doesn't make it okay to gawk
I highly frown upon all forms of gawking and things alike
As does most of society
But hey,
If you want to be shunned go right ahead
I won't say I told you so
…
Actually I probably will
Anywho…
No your hair looks great
I promise
Yeah I know that is a nice car
His hair does look good today
Holy cow, look at those arm muscles
No!
I see what you're doing
Not cool.
I swear, it's in your best interest to just abandon pursuit right now
Oh what a darling laugh
No.
It's the ones with the darling laughs you have to watch out for
Just because I said he had a nice laugh does not give you permission to look!
It's as if I'm babysitting a two year old
Please, can you control your thoughts?
I have a PG mind
No I don't think he noticed that you miss your mouth with that chip
It was funny though
Hehe.
Ok, ok no need to get worked up
…
I'm just an innocent third party member
Don't mind me.
Wait a gosh darn second,
Is he walking over here?
Don't talk to him! He's plotting! He's plotting!
I can see it!
He's no good, but man, so attractive
Are you hearing what I'm----hello?
Hello?
Hello??
Awesome.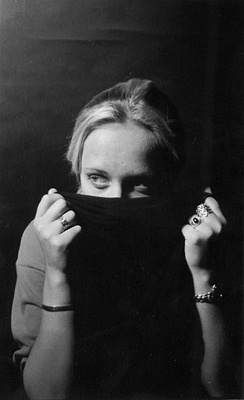 © Hadley B., Marblehead, MA