A Sudden Suicide
April 19, 2011
November 07, 2010
Shelia Quinn, a typical eighth-grader, died yesterday. She was found dead in her bath tub. The coroner has ruled it a suicide. A friend of Shelia's, Elise Wilson, stated, "It was flooded, as it was still running. I found her with blood surrounding her." They both attended Pittsburgh Middle School. Shelia was a new student who moved from Ireland a week ago. The reason for the suicide remains a mystery. Her parents have no comment at this time.


**

Biting my lips and holding myself back so I wouldn't let out a sob; I read the article over and over until I had every single word memorized. Seeing my name in the newspapers should've cheered me, except for the fact that my best friend in the world had just killed herself. Sure, she was just new, but she was the only one who understood me. I was the weird, crazy, colorful Elise Wilson apart from the same, boring crowd. Oh, why did they have to bully Shelia too?

"You okay?" my mom asked, seeing me and the article as she poured herself a cup of coffee.

"No, not really," I responded with a weak whisper.

A long silence hovered between us until my chatty mom ruined it. "So, it is true?"

"Huh?"

I've heard your best friend was bullied and that led to her decision to commit suicide. "Is it true?"

I opened my mouth, ready to lie. But then I shut it. Should I lie when there's nothing to lie for? I took a huge gulp and spilled the beans. I told her all about the students' response to her arrival on the first day and throughout the week; how they would spread rumors about how she was a slut (she was really beautiful). How girls and boys would shove her into lockers, how they would call her nasty names, and virtually hurt her too.

"Wow," my mom mumbled. She seemed to be breathless when I was done. I nodded slowly, tears coming from my hazel eyes through my dark brown hair.

After my mom left the kitchen after three long minutes of silence, I thought how it would've happened differently if our middle school never bullied her, or if she or witnesses had done something about it. Shelia would never have ended up on our local news, reporting how she was found dead in her bathroom, in her own home. She would've been happy in her new home, not upset or worried about how the bullies would torment her the next day. She would've been laughing along with a crowd, not just me.

Putting the article down, I headed outside and grabbed my bike. I pedaled down the street until I reached the church where my only and greatest best friend's funeral was being held.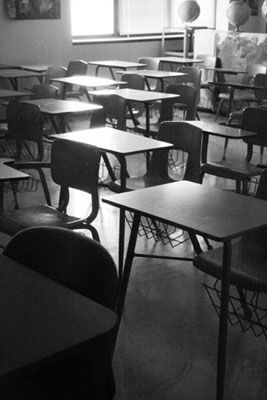 © Sean C., Princeton, IL