Life As I Know It... Chapter 4
February 16, 2011
"Mom?" I asked while walking into the kitchen. I looked around and caught a glimpse of myself in the glass. In black Pjs, a messy bun, and no makeup. Ugh, I look so ugly. No wonder why Zach left you.. no wonder why-
"Yes?" Mom replied while entering the kitchen. I gasped and turned around, quickly realising that it was just my mom.

"Do we have any Strawberries?" I asked quietly.

"No, you greedy b*tch." Mom's boyfriend replied for her.

I looked at mom. Why wasn't she doing anything? She just looked at him and walked away. I felt a single tear drop as I looked for the comfort of my mother. Why wasn't she saying anything? Why doesn't she care? Please.. Don't go mom, I love you.

I wiped away the droplet and dragged myself towards my room. Desperate for attention, love. I wanted to feel whole again. I wanted...

My thoughts were cut off by the sound of glass breaking. A scream, a loud crash, it all happened so fast. Before I could think I turned around and darted towards the kitchen. Screaming and muffled sobs came next, then a dropping sound. My heart dropped.

I ran faster than ever before, knowing my mother was hurt. I screamed for my mom, turning the last corner...

Almost there, mom, hold on!

I stopped. My heart sunk. Tears flowed out without a second thought. Glass, broken everywhere. Him, looking over her motionless body.

"GET THE H*** OUT!" I screamed. The boyfriend looked at me. I ran towards my room, heart racing. I needed to run faster, hurry, before he catches up to me.

I turned the last corner, and jumped. I jumped towards the safe, turning it, sweating. I quickly grabbed the gun and loaded it. Footsteps neared as I looked around the corner. I sweated bullets. My mind screamed at me as I creeped out of my room.

No mercy.

He neared, so did I.

Face to face now, no mercy, no mercy!

I pulled the trigger and screamed. "Thud!"

I jumped over his body, he was still alive. I wasn't concerned about him, I had to get to my mom. I raced down the stairs and darted towards the kitchen. I heard whimpers and gasps. She was curled up in a ball. "Mom! Mom!" I wailed.

"Yes?" She replied weakly.

I was so happy she was alive. I cried and hugged her tightly. "Everything will be fine, trust me. Let me call the cops!" I said quickly. She nodded weakly, laying in her growing pool of blood.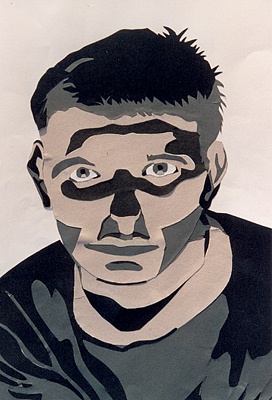 © William S., Houston, TX