"My" Life
January 18, 2011
When she was six, her future had looked bright. It all started when she made it into one of the most prestigious kindergartens in Seoul. Of course, this had been my accomplishment, because the first round is always the mothers' race. No, I wasn't one of the "crazy Korean mothers" I was simply a mother who would get up early in the freezing winter morning to wait in line for hours to get her daughter enrolled in an educational environment. Like how most mothers like to think, I had thought that my girl was one of the more special ones and had thought that I had to do my part as a mother to make sure that she became successful. And my girl did prove that she was a special one by topping the kindergarten class. She picked up English and Chinese faster than anyone else. She made the best paper cranes and flowers in Origami class. She was good at math, even the basics of algebra. She learned and memorized songs quicker than anyone else too. And she did more reading and writing on her own than what was required in class. I was positive that success was coming her way.
There's really not much I remember about myself when I was in kindergarten, except for the fact that I didn't really like it all that much. I liked the art classes, but that was pretty much it. Oh, one more thing. Kids who finished things quickly and correctly, always got more free time. The faster I got things done, the longer I got to draw.
When she was 14 her future still looked bright. She made it into Y International Middle School, one of the best private schools in Seoul. I was so proud because this was her accomplishment, not mine. She had sat in different cram schools for hours every day since entering the first grade and this was the rewarding result of it all. Though, she had hated her daily schedule, she never let herself give up and went to math contests, English speaking contests, and creativity Olympiads. Though she never liked her tutors who prepared her for the admissions tests and interview, she managed to master high school level math, English grammar, and Korean history by sixth grade, all of which was required for a good grade on the admissions test.
Elementary and middle school years were terrible. I had such a busy schedule that I didn't even have an hour to spare for drawing in the weekends. I don't even want to think about all the hours at cram schools and those tutors I had. What kept me going was always the need to draw. I always thought of it as a challenge. 'If I do this right, I will have time to draw. If I ace this test, Mom will buy me better stuff to paint with.'
She is now 18, doing her best in S High School, one of the best boarding schools in the country. Though her grades aren't as good as they used to be, that isn't going to stop my girl from continuing to try harder.
I am now 18 and my future looks darker than ever. I've ended up in S High School, which is supposed to be one of the best boarding schools in the country. Over the years, I have lost all my confidence, ambitions, and determination to become that someone that I had created in my own daydreams, the successful me. I feel worn out. I hastily work through school and tutor assignments each night, only turning in the things that I get to finish before bedtime. As funny as it sounds, keeping my bedtime routine has become the only thing I'm strict with myself about. I sit in front of my desk one week before finals and start reading the text book lying in front of me, but I fail to make sense of it all. I don't see the point in trying, in studying for exams because I know I won't be happy about the results again. I try to block out my mom's words, her hysterical reaction to my last report card as well. I try to push back the tears swelling up again because I….I know that I don't deserve to cry about anything.
There really isn't anything problematic in her. Rather, what keeps me awake in bed is the admissions system that seems to change almost every year. I'm really getting tired of it all, having to change plans so often, but I know I can't let her give up. I just thank God that the education consultant from D institution has been so professional in putting together her portfolio which, hopefully the nation's top universities will take interest in next year when she applies to them. It's also a relief that despite all the talents she has, she continues to focus on her studies instead of fooling around with other unnecessary things.
I wish I could paint. I wish I could become a painter. Sadly, this dream of mine serves only as a distraction at this point of my life. But I really do wish I could paint. For a living, I mean. Show off my work in galleries, travel from place to place, and paint landscapes that no one has ever managed to produce before. I think it's my thing. And I think I'm the happiest when I paint. But I know for a fact this will never be an option I'm allowed to take.
Round three - university admissions - is team-play, and I want my daughter to be the best. I want her to be the best of bests because I know that's the only way I can give her the best of bests. She deserves it, my little girl. And I can't let other teams get in the way of it.
I don't know how these last few years of my life have gone by. I am lost. I feel like I have nowhere to go. No really, I literally have nowhere to go. There's not one 'good university' I can possibly dare to even dream about applying to.
Like I've always been all throughout these years, I'm proud of my girl for staying so strong. So focused on our goal. Everyone wants to be positive, but not everyone gets to have their goals achieved. And I know for a fact we're going to win this race. She's only 18. Her life's only just begun. I can't wait to see what she makes of it.
I'm only 18. And I already know my future isn't going to be so bright.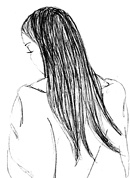 © Miranda B., Neosho, NY