Friends forever....
January 13, 2011
This is a story unlike no other. This is about my boyfriend, who was actually was going out with another girl. I knew he was cheating on her but this is my story.


I met Ben at a rave in upper Manhattan. Earlier at school I had seen him because he was the new kid at our school and he was hot. I had introduced myself and we had a class together so I showed him the ropes but he hadn't seemed interested. Although I didn't know why, I am the dream girl. Popular, head of the cheer team, and I excel in the drama department. But I'm not mean. The only reason I am mean is when I get those people who are biased because I am the "queen bee". I can't stand when people hate me because of who I am.

The rave was on Saturday. I had spent all day preparing my outfit with my best friend Destiny.
"Hope! You have to wear this!" Destiny bellowed over the music that was pounding out of my Ihome. She stumbled out of my closet holding up this really outrageous mini dress I had gotten a couple months ago, It was splashed with colors but originally black. I rolled my eyes and snatched it out of her hands. "Really, you want me to wear this Des?" She nodded her head and chucked my pink stilettos at my head. I ducked but snatched them out of the air. As I pulled on my black fishnets Destiny grabbed stuff for herself out of my closet. She darted out into the bathroom before I managed to snag whatever she had in her hands out of them. When she got back I was sitting patiently on my bed singing along to Carrie Underwood's Lessons Learned.

Destiny grabbed my hand and glued on the fake nails, I bit my real ones constantly. When she finished I looked into the mirror. I smiled happily and put on my charm bracelets, necklace, and anklets. I had gotten a charm from Carly every year for sixteen years, it was a tradition between our moms and they passed it onto us. I give her a new one every year and so does she. I have two bracelets and eight charms on each. I put them both on and shook my wrists.
"Best friends!"
I whispered in Destiny's ear.
"Forever" She whispered back.
For the final touch my other best friend Zoë did my makeup. She did my lips up with a shiny red lip gloss and my eyes had dark charcoal smudges and heavy eyeliner. Finally she applied sparkly mascara. I giggled and spun around in my chair.
"Ohh! You look so amazing!" Zoë gushed.
"Well so do you babe!" I giggled grabbing her hands. I looked around at my friends smiled. We all looked amazing. Destiny was wearing a dark purple dress that matched perfectly with her black hair and brown eyes. Zoë was wearing a strapless emerald green dress that was the exact shade of her eyes. Her blonde hair was tied up in a neat bun, which was the opposite of mine; my dark brown hair with blonde steaks was down and there were clips pulling half my bangs out of my face. Just then my third best friend darted into my room tripping over her heels.
"Sophie! You look amazing!" we all screeched and she did. She was wearing a gold wrap around dress and matching heels. She smiled and her lip gloss glittered. Just then my mom walked into my room, her heels clicking on the bamboo wood floor. "Darlings, you all look amazing!" My mother tittered appraising us each in turn. She turned to me and handed me fifty dollars. "Baby Doll, the limo is here; please if any of you drink take care of each other! I mean I'd rather have you not drink at all. I want all of you back here by say, 2:00? I'll have Clarice set up the REC room. Do you guys want any special snacks?"
'Whatever Clarice gets is fine Mom!" Sophie called dragging us downstairs to the limo. We have this thing my mom is her mom is her mom…. You get the idea.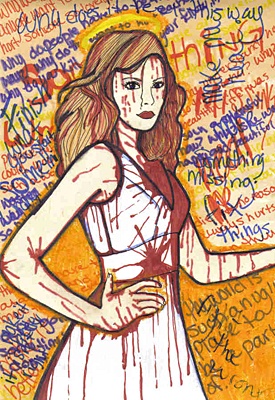 © Sara D., Aiken, SC