No Escape
December 23, 2010
There's no way in. And no way out. We're trapped in our lives, with no way to escape. We sit around, wondering what it would be like to be free. We dream about freedom. But we never actually do anything to be free. We just wait for it to come to us.

But nothing just comes to us. We have to fight for it. Some of us don't even bother to fight. They just sit and say, "What happens, happens." And it's as simple as that.

When you dream, you imagine flying. Feeling the wind against your body, and soaring against it. You think, "I'm free! I'm free!" And you are, in your dreams. You can do anything, be anything, that you want.

But then you wake up, and you're back in the real world. The world where people are always telling you what to do, and who to be. You never get a chance to be yourself. Somewhere out there, there's a person. A business woman, who is grown up, and expected to be mature and boring. But inside, she just wants to burst. She wants to go to a bar and get drunk, and maybe dance a little. Release her inner child.

And somewhere, there is a man. He's a cop that is expected to follow and in force the law. But while he watches guys speed down the road on their motorcycles with no care in the world, he wishes that he was them. He wishes he could feel the rush of the wind against his face, and the adrenaline when there is a cop in the rearview mirror.

We're trapped in our skin, in the roles we play. We put on a show for the audience, and obey our puppet masters. We want to disobey, and give them a smack in the face. Or run around wild, and release our true selves. But still, we remain in our prisons, with no escape. And we do nothing about it.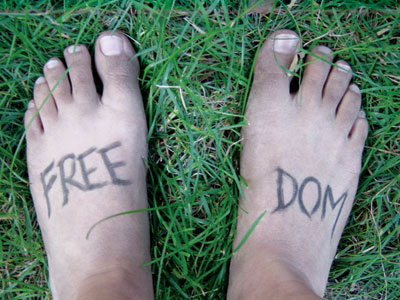 © Anna B., Northville, MI