Black and White
October 23, 2010
You mortals are so visual. Didn't your mommy ever teach you that not everything can be seen with your eyes? No, of course she didn't. After all, she was the one who practically peeled them open so that you could catch sight of a world that doesn't really deserve to be seen. So you made your own world. I'd tell you what I am, but you'd either visualize a sobbing blonde in an ostentatious white dress or a tall, statuesque, armor-clad figure, again with blond hair. What is it with you people and blond hair? And black hair, for that matter - honestly, I really do not understand what is with mortals and hair color. But if it makes you feel better, you can imagine me as a perfect little blonde princess. What, you want to know what I really look like? Honestly? Well, then, I'll tell you. I'm extraordinarily pale and I have little black marks all over my skin. That doesn't sound familiar at all. Why would it?
Questions, questions. Another one: why exactly am I talking to you?
Oh, you thought that was a legitimate question, didn't you? Not. Let me know when little black marks gain the ability to speak, I'll mark it on my calendar. Except for the small inconsequential fact that I do not possess a calendar, nor would I be able to do anything to it if I did have one. Unless the little black marks in question receive the ability to move. Keep track of that one for me, too.
This has been fascinating, hasn't it? Well, forgive my assumption, but you are still reading. Black marks with bad attitudes must be coming into fashion.
Let me go mark that on my calendar.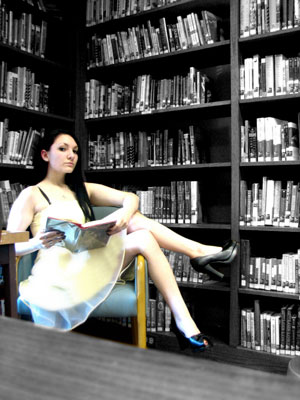 © Jessica F., Bradford, MA