Earth to Ellie
October 2, 2010
I gaze out the window, my head resting on my hand, ever the image of the average bored student. My teacher continues his lecture as the rain falls on the other side of the smudged glass. His words run through my head every so often, so here and there I hear a, "density is a property that relates…" or even, "and remember, you divide the mass of the particular substance by…"

I try to block out his voice. Maybe then I can finally find peace. The shrillness of his words rings in my ears like a cowbell, and I long for my MP3 player and ear plugs. I would tune out to my favorite music and forget everything I had ever learned…..

"Ellie. Ellie! Ellen Smith!!!"

"HUH???" I said as I drifted back to earth from La La Land. "What is it?"

"Well, if you had been paying attention, you would know that I was talking about density. I had just asked you what unit of measure you would use if you were showing the mass of a substance."

"Oh," I replied, really embarrassed. I mean, who wouldn't be? I could feel the blood rushing to my cheeks, turning them a bright shade of rojo. "I'm sorry, Mr. Pato. Really, I am."

He just nodded and stared at me, as if he was expecting more. Confused, I said, "Can I help you?"

"I asked you a question, Miss Ellen Smith."

"Oh, yes! Of course!" I answered. "Let's see… if you were showing mass, you would most likely use… grams! Yes, you would most definitely use grams to show mass."

"Very well," Mr. Pato said. "Please stay focused, Ellen."

"Yes, I'll try."

He looked at me skeptically. He was probably thinking, as if. I know I was.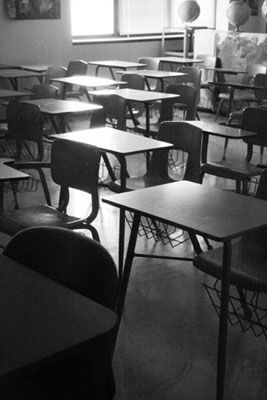 © Sean C., Princeton, IL