Why I Never Wear Flip-Flops
September 19, 2010
I cast my eyes slowly, carefully, around the room. Most girls' wrists are either bare or covered with hair bands and bracelets. A few of them however, are wearing thick sweatbands, which hide tender pink flesh. Flesh that was abused so seriously, life itself very nearly slipped out of the veins that ran under it.
My wrists never looked like that, because I never cut them. It only even crossed my mind once.

*



*



*

It was the first time I really felt desperate. The first time I felt the need to draw my own blood. The razor blade hovered longingly above my wrist. But I stopped myself.

"Why, why would you do this to yourself?"

I'm drowning. Drowning in myself. And I need out.

"But are you really going to take this way out?"

What does that mean?

"You're going to let life conquer you? Some people live for over a hundred years. And you think you have to stop now? Life has gotten to you already? You're going to be beaten this easily?"

And then I put the razor down- but only that once did my skin avoid being pierced. My skin and the same razor were close proximity countless more times- ready to connect.
But I denied the razor my wrists, because I was not going to let life conquer me. I decided I was going to beat it. I was going to beat it, and my life was going to be harder than anyone else's- because I wanted to be that strong. So every time I felt like life was starting to get a grip on me, I was just going to make things even harder on myself.
It took me a long time to decide where I'd cut. Not my wrists. I knew that much. I thought about my scalp- it would be hidden under my hair. But the blood would be nearly impossible to rinse out, and if I ever left a dried flake in, the questions would start flying at lightening speed. It would be like a press conference- or an interrogation.
My belly was out of the question. Every time summer came around and I wore a bikini, there would an endless flow of worried glances and gaping mouths.
When I was shaving one day, I thought my legs would be a good option. No one would see them in winter and fall, and during summer and spring I could just say that I was really bad at shaving. But then I decided there would be rumors, rumors that were albeit, true, but nevertheless annoying.
I spent several science classes completely ignoring Mr. Jacobson, and just staring at the skeleton at the front of the classroom. I looked up and down its white silicon form countless times, looking for the ideal place.
Out of sheer luck, I literally stumbled upon the answer. I was returning my beakers to the main lab table, and they slipped from my hand. I dove for them, and narrowly caught them before that shattered on the unforgiving tiled floor. And I was staring at it- the perfect place.
My feet. Now one ever saw them. Not even at the doctor's office- they never ask you to take off your shoes. I just couldn't wear flip-flops in the summer. And I never did anyway; I wore sneakers all year round. I was golden.
I stood up and placed my beakers on the lab table.
Mr. Jacobson smiled at me and said, "Nice catch,"
"Thank you," I replied, smiling back.

*



*



*

So now the bottoms of my feet are covered in straight, purposeful lines. The light ones heal quickly, but the deeper ones, they stay for a long time, sometimes they stay forever.
But that's no big deal, because I never wear flip-flops. I'm always either in sneakers, or track shoes. Oh yeah, I joined track. Right after my razor and skin united for the first time, I decided I should run track, on my feet- just to show life that I can beat it, not matter how much pain it causes me.
So now my wrists get to wear pretty bracelets and colorful hair bands. And I don't have to wear those telltale sweatbands that other girls do. Now I look down, and all around the room, checking out everyone's footwear. Flip-flops…flip-flops… flip-flops… then there are my sneakers. And I smile.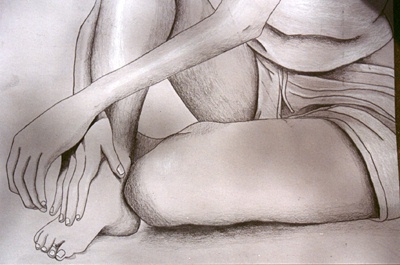 © Rebecca W., Kannapolis, MD