Meeting The Stranger
September 1, 2010
Introductions, introductions.
My hand is sweaty as the gaze of the man falls on me, every bit as friendly as was appropriate and no more. I try to be surreptitious about wiping my hand against my jeans before extending it to shake his. He asks me for my name, and gets it wrong. Though this happens a lot to me, I am officially stammering by the time I finally get my name across. He smiles, a little apologetic, as if he thinks that my nervousness is all his fault. It hardly is.
He tells me his name, which I forget within the next ten seconds, given the kind of concentration I was putting into being overly cautious. I can see his eyes, and his eyes judge. Just like everyone else's.
His eyes judge my actions, not my thoughts. His eyes judge the outcome, not the effort.
His eyes judge the cover, not the book.
I try to get away, but once sweeping, cursory glance around the room tells me that there is no company that is safer: the room is filled with strangers.
He was the only known devil.
Over-reacting, I tell myself firmly. Way over-reacting. He's probably a nice guy. How the h*** can you possibly classify him as a devil when you barely know his name? I mean, sure, he'll probably never get the way you function, and judge you as a crazy person like everyone else, but it's not like it matters. He'll think of you as a maniac today, and forget all about you tomorrow.
Yeah, right.
Stop it! I command myself.
I breathe in, and out. Repeating the process till I'm sure I won't hyperventilate, I look up to see the man - that is how I shall think of him forever, I said to myself with disdain - looking at me in some concern. Superficial concern, but concern nonetheless.
"Are you okay?" he wonders.
"I'm fine. I think."
He stares.
Typical.
I decide on the spot to flee.
"Erm, I need the washroom."
There. A perfectly normal, logical reason. Except I start heading in completely the opposite direction, towards the gate where a billowing warm wind pulls me towards it, away from the artificial, cold air.
I go out into the lawn, looking at the cloudy night sky.
"I have to get a hold myself," I say, out loud. "How is this ever going to work? I can't be scared of all of them like that."
"But they judge!" I speak for the whining voice in my head, defending myself from myself.
"And wrongly," I add.
"Whatever. Hardly an excuse. That's it. You are going back in there, and striking up a nice, normal conversation. Do you get that?"
I sigh and turn around.
I ponder what I should bring up. He looks like a person who listens to a lot of music. At least, he had a phone that boasted of perfection in music clarity.
"Hi again," I say quietly, finding him exactly where I'd left him.
"Hello. Where did you run off to?"
I grimace. "I needed...air."
"Of course." But I see his odd look.
I sigh, and ask him if he's heard of the current meaningless chart-topper. He says he has, and an awkward conversation flows.
At night, I hug my pillow and shed a few tears. Another day done. Another lifetime to go.
A lifetime as a condemned 'recovering' anthropophobic.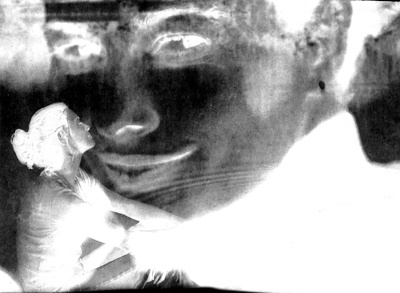 © Jodi H., Aberdeen, SD