The Perfect Place
July 30, 2010
As i flew around the corner, the engine growled fiercely. My seat vibrated over the bumpy earth. The birds' loud chirps buried the sound of the roaring motor as i raced through the trees. The cool air was whipping through my hair and making tingling sensations run up and down my pale, bare arms. A woodsy smell infused my nostrils- the sweetness of grass, trees, moss and lilac. I sucked in a gust of clean air and gasoline tinged the tip of my tongue.


I rounded the last corner, out of the blurred greens and blues of the wood, and was suddenly emptied into an open field. As i shot by, a horse whinnied in discomfort, but i made my numb finger inch the four-wheeler faster, faster. The small black lever was slick, icy. I knew running water was nearby- the mossy aroma sent my nose into an erratic frenzy for more. The sweet small was comforting, homey. Still, i plowed forward


Later, as the motor got hotter, i pressed my legs to it. They craved the heat, for i was extremely cold. The night was creeping in, the light going duller and duller as the sun set pink. A dogs bark boomed in the distance. I could almost taste it's musky smell on my chapped lips. They parted slightly with little hope that the taste had still lingered on them. Nothing, except the cool air of the night.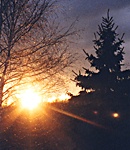 © Vhristy S., Germantown, NY