The Middle Child
July 26, 2010
There once was a family who lived in central Missouri. There was a mom, dad and three boys. The boy's names were Calvin, Mark and Craig. Mark, being the middle child was always desperate for attention. He was constantly competing against Calvin's insane athletic talent and Craig's rare intelligence. Mark was neither athletic nor a genius, but he did have talent when it came to being a comedian. This did not impress his parents, however.

Calvin was the star player of his high school track team. He ran the 1600 and always placed well. At this particular meet, he placed first, earning a golden medal. To celebrate, his teammates decided to throw a party for him. After the meet as Calvin was walking away from the track, Mark approached his older brother. "Calvin," he said. "Can I come to the party with you?"

Calvin, who was surrounded by his friends gave an embarrassed smile. "Um, sorry kid, you'll have to sit this one out." Mark watched as his brother disappeared into the parking lot with a crowd of excited and happy popular kids. Mark felt deeply hurt. He had never missed one of Calvin's track meets and that seemed to mean nothing to him.

Craig was a talented writer as well as having an extraordinary talent in the understanding of science. One day he decided to enter a writing contest sponsored by a highly respected conservation organization. Not surprisingly, he won it. The prize was a trip to Washington D.C for the winner and three guests. Craig ultimately chose his mom, dad and Calvin. Mark wasn't surprised. But, at the last minute, their father discovered that he wouldn't be able to go on the trip do to an issue at work. Mark immediately assumed that he would inherit his father's ticket. He started packing, excited that he'd be able to see the nation's capital. But Mark was soon told that Craig was giving the ticket to one of his friends. Mark stared at his half-packed suitcase with watery eyes. Once again he was let down by one of his brothers.

As soon as Mark graduated from high school he decided to move to New York City and pursue a career in stand-up comedy. His mom and dad didn't approve of this,. Calvin and Craig betted on how long it would be before Mark came crawling back to Missouri begging for them to let him move back into the house. Mark turned out to be naturally gifted at stand-up. He instantly became a huge success and got many fans. He even got his own show on TV.

Soon after Mark's success, Calvin broke his ankle and was no longer able to do track. Craig was caught in a cheating scandal at his ivy league school and was immediately expelled. Their father lost his job at the office, which resulted in the foreclosure of their home. Their mom was devastated by the failure of her two favorite son's and as well as the financial crisis she was in.

Having no idea what else to do next, the mom, dad, Calvin and Craig traveled from central Missouri to the heart of New York City. They stood on the doorstep of Mark's luxurious apartment, carrying the few belongings they'd managed to keep. The father hesitantly pushed the buzzer and moments later Mark appeared at the door, dressed in Manhattan's finest selection of clothing.

His family looked at him with helpless, desperate eyes. Regret of ever underestimating Mark was written all over their faces.

Without even a second thought, Mark opened his door for his family. "Welcome to my home," he invited with a kind smiled.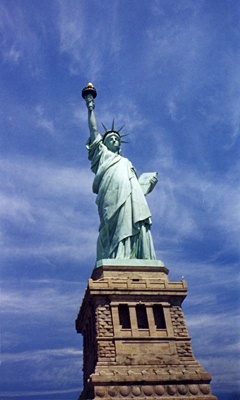 © Michelle S., Loda, IL