It's Not Okay
June 20, 2010
Breathe. Just breath.

I sucked in a chest full of oxygen, and slowly exhaled. The dress that was constricting my breathing was beautiful – too small, yet gorgeous. Shades of blue and green melted together, falling gently to the floor, creating a dizzying, oceanic effect. My dark red hair clashed with the colors. The dress was something out of a fairytale. I glanced once again at my reflection. I didn't know the girl in the mirror. She seemed too pretty to be me! I looked down at the price tag and had to hold back a yelp of surprise. $124.98.

"There is no way that I can possibly wear one of these dresses to your wedding! It costs more than my entire outfit that I wore to get here! The price is ridiculous, and besides- it doesn't match the color scheme," I said to my mom, who was trying on her own dress.

She swirled around in a whirl of silk, "I don't care about the price, darling! You look ravishing! We must see about this size matter though. You can't wear a three! Julia!!! Will you get my a five please? Diana isn't able to squeeze into this one! Now, lets get you out of that shall we?" Her arguments always ended with a question.

"What about your color scheme- classic red? This doesn't match!" I kept trying to convince her.

"I can change it. Nobody else has their dresses yet anyway! Now hurry up and get out of that one," she responded. Dang, she's good. Mom –1, me – 0.

I shimmied out of the dress and hung it back up on its hanger. I always felt so bad when Julia had to do it, even though she gets paid for it. Slipping on the size 5, I thought about the wedding. Mom's dress was amazing. It was all white, with little pearls embroidered along the neckline and chest. Her train fell behind her in waves that followed perfectly behind her when she walked. I hadn't seen Scott's tuxedo yet, but it had to be just as expensive and wonderful.

Thirty minutes later, we were in the car, on our way to the little café down the road. It was a quiet little place that did poetry readings on Thursday. Luckily, it was Tuesday. We pulled into the tiny parking lot. Mom's Ferrari was the nicest car in the lot. I climbed out and went into the café. I ordered a tall, spiced green tea, while Mom got her usual tall mocha latte with an espresso shot. She led us to the corner table that sat by the picture window.

"Honey, I have some news for you," she casually said, looking into her coffee as if the meaning of life lived there, "After Scott and I get married, we are moving to Kansas." She looked up at, like she was waiting for approval.


I sat, shocked. Kansas? Who would willingly move to Kansas? All of my friends lived here in San Francisco! I couldn't leave while Lynnea was still here. We had been best friends since she made me sit next to her in first grade. Lynnea was my twin! She and I had everything in common. We had the same taste in music, clothing, friends, and boys. I could not move away from my favorite person in the whole world!

"Why?" I squeaked.

"Scott has family there, and we figured that it would be better to live in a place that isn't so… well, let's say corruptive," she replied.

"MOM! I am fifteen years old! Haven't I already proved that I don't give into that stuff? Remember seventh grade when that Tobin kid tried to give me drugs? I didn't take them! Why do we have to move from the only place I have ever lived? All of my friends live here, and don't even get me started on what Lynnea is going to say when I have to tell her about this," I whined. Tears were streaming down from my emerald eyes. I wiped my eyes, hoping that my purple mascara and black eyeliner hadn't streaked across my cheeks like racecars.

"Diana, please don't fight me on this. Scott and I feel that this is the right decision," she pleaded with me. I couldn't say no to my mom's pleas, so I nodded slowly and turned to look out the window, trying not to run out of the room screaming.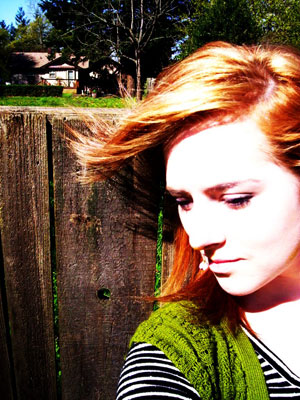 © Anna K., Portland, OR