The 3 Step Guide to Getting Your Way: For Eldest Sisters
June 17, 2010
The ripe smell of oranges stuns my drowsy senses as I walk into the kitchen Saturday morning. I squint my eyes shut, blocking out the rays of light that beam through the window, seeming so overpowering. Slowly I bring them open, trying to let them adjust. I blink a few times and then continue walking towards the table where I can now see my sister and father sitting, a huge bowl of oranges sitting between them. I could tell that they were discussing something and it took a minute for me to catch up in their conversation. My sister Cicy had always been the demanding one. She never took no for an answer and if that be the case, she argued until she got her way. It always worked; so much so that it was amazing. My father, however, had never been one of the pushover types; that was my mother. Having the two most stubborn people in the household facing off would make for an interesting show, so I walk over to the table, grab an orange and walk back to sit on the counter and enjoy the production.

"Daddy, you can't be serious! This means everything to me! How can you take away such a huge privilege from your oldest daughter like this?" Cicy tenderly tells my father. She was always a drama queen, so it makes sense that she has an argument strategy. Part one of the plan was complete: the puppy dog eyes and guilt trip. I keep sitting and watching, peeling my orange into the sink.
"Cicy, be rational. Prom is just another moment in your life, it passes quickly so I'm sure that in ten years neither you nor your friends will care about what store your dress came from." My father retaliated, brushing off the guilt trip. Score one for Dad.
"Fine! Well, if you won't let me get my dress from Jovani, I'm moving into the garage! You can't stop me! I can drive so I'll just move the cars out and my furniture in!" Cicy practically yells back at him. Score one for Cicy. Part two has been completed: the forfeit and introducing of severe consequences.
My father sighs. He knows Cicy is dead serious; she is nothing if not crafty. I take a bite of my orange. This is going to be good, I think to myself.
"Sweetie, there's no need to be rash." This is always the killer. It sets Cicy up perfectly for the kill. Step three: suck up and start crying.
"Daddy, I don't want to have to move into the garage, I want to stay here with you and Mama but I—I, I just want this so badly!" Here come the waterworks. "All I've ever dreamed of for my senior prom is to be able to--to look pretty in a desi—designer dress!" She is all-out wailing now.
"Oh, Cicy, I'm so sorry sweetie! Shh, it's ok! Just calm down, we can get you the dress!" My dad looks defeated, he knows his fatherly instincts have been played on. I get up, wipe the orange juice on my jeans, and leave the room. I know what is going to happen next already: Cicy would sniffle and thank my dad only to be chipper and perky again as she tears the credit card from my dad's reluctant hands.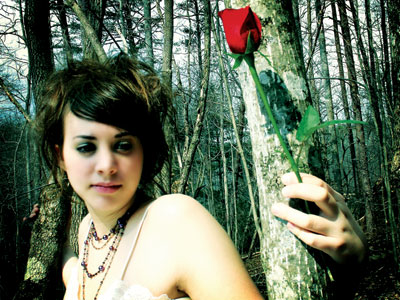 © Michelle B., Blairsville, GA