The Girl in Pink
June 16, 2010
I was always the girly-girl, the drama queen of Junior High, the odd one out. I was the girl in pink. Never wore any other color, except for maybe brown, white, and red. I loved pink. All my thoughts, my emotions, were masked behind the thick layer of pink . . . everything. People never saw me for who I was, I never saw myself for who I was.

So that's why it surprised everyone, including me, when I entered high school without any pink. The girl in pink had died, lost like a memory. My Junior High years were over with, and so was my Junior High self. I had told my mom that I wanted to start off new, to experiment with finding my real self. She sighed and without any argument, gave me money for clothes.

Old Navy was full of cute outfits, and none of them was me. I felt like an outcast in these clothes. Pink, where was the pink?

There were cute tops in all the colors of the rainbow, and blue jeans in every size out there. I swallowed and bought no pink, just cute tops. No pink, it devastated me. Wait, correction, it hardly did anything to me; I just felt devastated, I never actually was devastated. Actually, from there on out, I was free. I was no longer attached to one color, I was attached to many. I threw away all the pink outfits before school started.

My locker was empty and bare. My emotions refused to hide this time. Pink was no longer my only color and I was no longer trapped. I let out a laugh, but quickly tried to contain it as I shoved my bag into the bottom part of my locker.

Someone walked up to me and asked about my lack of pink. I bet they were just sad that they didn't have anyone to pick on anymore. I told them that she had died, and that someone else came out. They walked away with a confused look. Where was the girl in pink?

Sighing, I walked over to the art room. Nobody noticed me, nobody laughed at me, and nobody looked at me. I had finally blended in, my blonde hair no longer up in pink bows and my outfits no longer consisting of pink. I felt the best I had in years.

All because the girl in pink had passed away, nobody even wanted to say a final goodbye. She had left merely a faint memory and had been replaced by a new me. I was no longer the girl in pink, and now this memory exists only on paper, nowhere else. Now, my job is to find who I really am before time runs out.

Now I let this memory go, knowing full well that nothing can bring back the girl in pink. Who am I now? I'll let you know when I find out.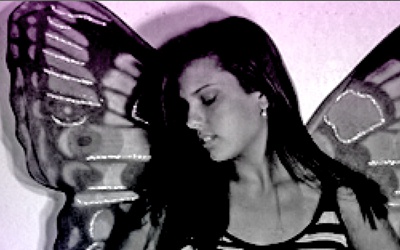 © Kathleen M., Rowlett, TX