His Name Is Bryson (3)
May 20, 2010
I slowed my pace, deliberately not looking toward Bryson and Quinn. I was hoping they would see me first; and my plan worked.

As soon as I came in sight of Bryson he smiled and Quinn smirked.

"Good morning" chirped Bryson, maybe a little too loud, as I knelt down to get to my bottom locker.

"Hi" I said, mostly directed toward Bryson of course; but it was Quinn who answered with a simple "Freshman," his weird, but kind of cute way, of saying hi. I looked up just in time to see Bryson scowling at Quinn. "Is there something I should know that you're not telling me here boys" I asked, and almost as if they had rehearsed it a thousand times both of them screamed no at the same exact time.

Weird. . . Maybe I was just being paranoid. . . Whatever. . .

I got my stuff that I needed from my locker, met up with one of my friends Tina and proceeded down the now crowded hallway. One advantage of being small and short is that I was able to dodge most of the oncoming "traffic", maybe not too gracefully, but it worked. As soon as we got out of the mob I saw Dylan, one of my best guy friends. We exchanged hellos and I looked back, prepared to introduce him to Bryson only to find that he was still trying to maneuver through the crowd. The only person that had made it through successfully was Quinn.

We exchanged glances and weak smiles, okay, mine was weak, and his was like one of those smiles you see in toothpaste commercials, all pearly white and perfect.

Perfect. . . Did I just think something was perfect about Quinn?

Bryson and Tina were just on time, blocking out everything that had just run through my mind. "We all ready" I asked looking next to me on both sides only to realize that Quinn had disappeared. I didn't think much of it and started walking toward my homeroom. When we got to the door I said goodbye to Tina. Then Bryson gave me a hug. It wasn't as amazing as a pictured it. . .

What did I see in this kid exactly?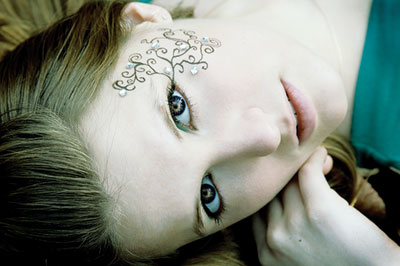 © Michelle B., Blairsville, GA