The Toolbox
April 30, 2010
"You'll be outta here tomorrow, huh?"

"Yep."

"Huh." Dad squatted down next to the fence.

"Needs to be fixed, we don't want the horses getting out." I squatted down next to him. "Where's the toolbox, Dad?"

"Where you be staying when you're away?" He started inspecting the broken fence, completely ignoring my question.

"At my old friend Matt's house, remember? He lives right by the school." I pushed the hair out of my eyes.

"Yeah, yeah...that's right."

"Supper's ready!" Mom called from the doorway.

"We better not keep her waiting." Dad started to get up.

"We could fix the fence first, it'll only take a few minutes."

His frantic eyes searched for some excuse.

"Where's the toolbox, Dad?" I prodded gently.

He inspected the fence again. "You remember when we built the shed out there, me and you, just one Saturday."

"Yeah."

"That toolbox has been around for a while, huh."

"Yep."

"Huh."

"Dad..."

He squinted up into the setting sun. "You...you'll be okay out there wont ya? You'll visit, and call, and write..."

"Of course." I avoided his eyes. "Dad?"

"Yeah, Son?"

"You'll be okay, wont you?"

"We'll make it through." He had tears in his eyes.

"I love you, Dad."

"We should mend the fence before supper...you know where the toolbox is...you know, don't ya son?"

"Yeah, Dad." I said softly.

"Huh."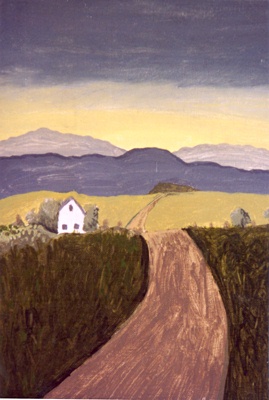 © Alisa L., Tracy, CA