The Distance
April 16, 2010
Once upon a time, is usually the beginning to a story that ends happily with a maid's transformation into a princess or an earthshaking kiss. This story begins with happily ever after, but it won't end happily. So now here's a simile to set the proper doom and gloom mood.

It once seemed that our relationship was unbreakable, unmovable, like rope or wood. No matter what strained us or fought to pull us apart, it couldn't succeed, we would not break. Illusions are easy to believe, the world is hard to correctly perceive; which is why I don't feel so bad that I fell for this charade. As it turned out, our relationship was more like saran wrap. In case you don't know saran wrap is a plastic wrap with the purpose of covering leftover roast beef and if you've ever pulled at the ends of the saran wrap, you've probably noticed that it tries its best to stay together, to meet the expectancy that the whole world has that it will stay together. Eventually, a small hole appears in the very center, barely noticeable yet still there, until the whole becomes more prominent and suddenly you're holding two different pieces of plastic altogether; each meant to cover their own roast beef.

I miss you. The rapid beating of my heart whenever thoughts of you cross my mind makes it obvious to me that I'm dependent on you. Like a ten year old child relies on Saturday morning cartoons, I rely on you; more than I should have, more than I wanted to. I just want to be in your strong arms again. Momentarily, I try to remember our positive times, except everything about you and me is negative. My hand is on my chest, over my heart, and I begin to breathe evenly, squeezing my eyes shut tight. Eventually, my heart returns to its lazy, steady thump as you leave my heart and I begin to cry.

Tears are hotter on my cheeks than I remember. I haven't cried in so long that it seems I've admitted defeat, I've admitted that you're important enough to cry over, good enough to waste my tears over. I try to tell myself that you don't matter, except you do. The tears came with the realization that I wasn't capable of covering my own roast beef. I need you and I want you, so, so bad.

My arm begins to tingle again and I lift up my sleeve. The glistening scars, each with their own story, all with the same excuse, catch my eye. The excuse was you. How could I depend on someone who hurt me so bad? I tell myself that it wasn't your fault; I was the one who held the knife to my skin, trying to elude the tears developing in my eyes because I never cried, ever. The knife belonged near my skin and together they formed a familiar dance over time, my skin tingling every time you did something that made me want sob uncontrollably, hysterically. Now I've messed everything up again, my scars have no reason, because I am weak; the salty water is my proof.

I'm done now. My eyes are dry, the surrounding skin raw and wet. I run my fingers through my knotted hair and recall how I hadn't cried since my daddy had left; now you're gone too. Everyone leaves, they always do. After all relationships are always like saran wrap, waiting for the stress and force to pull each part apart. But none of these halves of saran wrap are ever whole again, instead they become smaller and smaller until they're useless; pieces of small plastic unwanted and rejected like wretched, sorrowful me.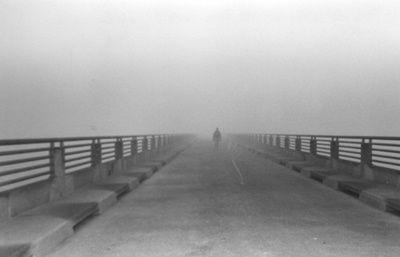 © Becky G., Westerville, OH