Sleep Paralysis
December 29, 2009
It's real because I made it real. It's just sleep paralysis and not that uncommon the doctors told me, but they don't understand.

I'm breathing but it definitely doesn't feel like it.

I'm being pressed down into the bed by the pressure on my chest and for some reason, a fleeting moment of bravery I decide to fight it this time. Usually my drowsiness allows me to force myself back to sleep and hope its gone when I next wake up but there's something different tonight. The room is lit up from the hall light spilling in through the doorway I'm willing to swear I closed before I went to sleep. There's something beside my bed that I can't see because my head is turned the other way and It won't let me move. I'm trying relentlessly to scream but of course, nothing happens. My mouth won't even move.

It never touches me or hurts me so I've decided It's not evil. I guess It's just watching me. So why can't I watch it? I'd ask it if It'd let me speak.

I'd ask It why it's always there and why It won't leave me alone.

Uneasiness seems to cloud my mind and I feel It moving. It leaves the room, closing the door behind it like an unnerving acknowledgement of the door-opening accusations in my head.

It's either watching me with bad intentions or It's trying to keep me safe. Surely there's a motive. Maybe It just finds me interesting.

I wish It'd go away.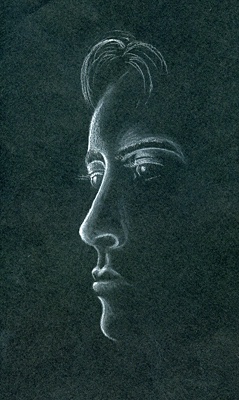 © Carlos S., Glendale, AZ