To Lay Down Your Own Life for That of a Friend
October 5, 2009
The thirteenth of November was destined to be a gloomy day. The sky was a melancholy grey, a steady drizzle plagued anyone who dared to venture out doors, and a small funeral service was being held in the tiny church on main street.

Those gathered and seated in the pews were not mourning the passing of a long and well lived life, but rather the tragic death of a teenager.

After the sad-looking congregation was seated, a sad-looking usher escorted a sad-looking couple to the front pew and they looked sadly at their grandson's casket. A sad-looking preacher stood behind the pulpit and gave his sadly-rehearsed speech.

"Ministering a funeral is difficult," he said sadly. "But ministering the funeral of such a young soul…" the preacher shook his head, "…is beyond difficult – almost unbearable."

The church doors opened half way through the preacher's sad speech and a teen-aged girl stumbled in, soaked to the bone, her brown and vivid pink hair plastered to her head. Her name was Hannah. She seated herself in the very back pew as the preacher went on:

"Sam was born into a world full of crime and sin and hate…as we all are. Even as a small child, he showed signs of greatness. Continuing on to his early teenage years, he was always the rock that stood firm and did not quake…"

He was a rock, the girl thought, tears in her eyes. But no thanks to his parents.



"Hey Punk," Sam said, coming up behind her and bear-hugging her. Hannah squirmed and giggled as he climbed up onto the concrete picnic table and sat next to her.

One look at his face told Hannah that his parents were fighting again. He looked tired, like he hadn't gotten any sleep at all. She grew silent as Sam managed a small crooked grin – but it was an empty expression.

"Sam," she began gingerly. He didn't like speaking of his parents. "Are you…okay?"

Her best friend was silent and when Hannah saw the look on his face, she knew that he was not in the mood.

"Guess what?" Hannah asked whimsically, changing the topic.

Sam's eyebrows went up. "What's that, Punk?" he replied, taking the bait.

Punk. His nickname for her because of her pink hair. And if anyone else ever called her that, they became the recipient of a well-aimed punch. Only Sam called her Punk.

"Tonight's Halloween."

"Yeah, I know that."

Hannah tilted her head to the side, her hair falling into her eyes. "You don't think I've forgotten, do you?" she asked, flipping her hair out of her eyes and digging around in her bag. When she resurfaced, she was holding a haphazardly wrapped package. Hannah let the brown paper fall away and held up a small steel cross tied to a narrow strip of leather.

Sam took it and pulled it over his head. "Wow," he said, a genuine smile – lopsided as always – on his lips. "Thanks!" He pulled her into another hug and then jumped off the picnic table, a playful gleam in his eyes.

"Let's go swim," he said, motioning to the lake behind him.

Hannah gripped the edges of the concrete table. "No way, Sam! It's too cold!"

He just laughed and pried Hannah off the table and dragged her into the water. She was right; it was cold.

"Sam!" she laughed as they both took off towards town. The sun was setting as they raced each other to the park.

"Dang it, Sam!" Hannah said as she sat shivering in a swing, glaring at Sam.

All around them families were emerging from their houses to go trick-or-treating, children dressed up in costumes of their favorite superhero or animal.

"Sorry," he said, not looking one bit apologetic.

Leaves rustled behind them and Hannah heard the merry-go-round squeak. She glanced towards the noises and immediately turned away, eyes wide.

Sam knew something was off. "What?" he asked in a whisper.

"N-nothing," Hannah said quickly, standing up and tugging at Sam's shirt. "Come on…no, don't look…"

But it was too late; Sam had seen what Hannah hadn't wanted him to see: Her ex-boyfriend, Chase. Sam's entire body tensed.

"Hannah…baby…" came the slurred voice of Chase as he caught sight of Hannah.

Sam narrowed his eyes at Chase, the pungent odor of alcohol on Chase's breath made it clear that he was drunk.

"Don't call me that, Chase," Hannah said, her voice icy cold.

Chase took a couple of steps towards Hannah. "I can call you whatever I want. You're mine."

Hannah shrank back, shaking her head. "No, Chase, I'm not!"

"Aw come on, you don't mean that." Chase swayed where he stood.

"Yes, she does…" Sam put himself between Chase and Hannah, his voice dangerously low.

"Sam, don't…" Hannah pleaded, pulling his arm.

Chase laughed. "Sam, don't!" he mocked in a falsetto tone.

It only took a moment for the confrontation to turn lethal. Chase was carrying his father's pistol. Before either Sam or Hannah could react, Chase had fired three times: The first lodging itself in Sam's leg, the second just barely missing Hannah's head, and the third – somewhat delayed – shot hit Sam's chest. He was gone before he hit the ground.

Hannah didn't realize that Sam had been hit until he had crumpled to the ground. By the time the paramedics arrived at the scene, Chase was sitting on the ground in a drunken stupor and Hannah was covered in blood – Sam's blood.



"His life was ended all too soon," the sad-looking preacher said. "And we will miss him…"

Hardly any of you knew he even existed, Hannah thought harshly.

"…it is said that no parent should have to bury their child…"

Hannah glanced around. Speaking of which, his aren't even here.

"…but certainly no grandparent should have to bury their grandchild."

Sam's grandmother sobbed loudly in the front row and his grandfather patted her shoulder comfortingly.

As the preacher closed with a prayer, Hannah thought about her best friend – her boyfriend.

She thought about how he had overlooked her questionable past and loved her for who she was; he even was okay with dealing with her crazy ex-boyfriends.

She thought about his brown hair that looked blonde in the sunlight and his blue eyes that appeared to be so clear and light that they were almost white.

She thought about his parents: How his father drank too much and his mother did drugs.

She thought about his crooked little smile that was a result of one of his father's drunken rages where he had fractured his son's jaw twice.

She thought about how he towered head and shoulders over her.

She thought about how they had loved each other – the plans that they had for the future.

She thought about the man that he could have become.

She thought about his last hours… He had died on his eighteenth birthday…

And she thought about his gift that he had unknowingly given to her.

Hannah waited until everyone had left before approaching the casket. She bit her lip as she looked at Sam's peaceful expression. Her face was wet with tears and she wiped them away with the sleeve of her black hoodie.

She let out a shaky breath as she traced his jaw line with her forefinger… "I'm sorry, Sam," he whispered as tears slid down her cheeks. "I'm so sorry…" A sad smile appeared faintly on her lips as she put a hand on her abdomen, thinking of the life within her. Hannah bent and lightly kissed Sam's forehead. "You won't be forgotten…" she murmured.


Eleven years later, on the thirty-first of July, Hannah kissed her son goodnight and wished him a very happy tenth birthday. Looking at the pictures of the child and of Sam, she couldn't believe how much they resembled each other. Hannah had named Sam's son after him: Samuel Jason Payne. Samuel meaning in the name of God and Jason meaning to heal.

She reached for her journal beside her bed and opened it to the page dated the thirty-first of October, ten years earlier. She had written down her three-month-old son's name:

Samuel Jason Payne

And what it meant to her beneath it:

In the name of God, heal the pain.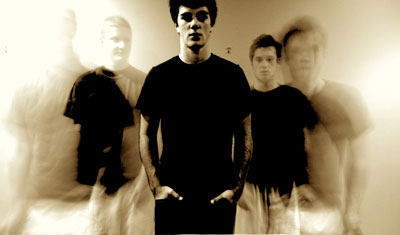 © Brian M., Fishers, IN