Trains
MAG
September 26, 2009
Trains always go where they're supposed to and they never go backwards. Trains always stay on their tracks and trains only need operators in case something goes wrong. The only reason trains and people are alike is that they can derail and crash in a plethora of lights, but even that is reserved for special people. Train people.

You are 16 and you are boarding a train for the last time.

You hoped to have been a train person when you were younger, but this was before school became the school that adults still cringe over and kids think is a living hell. Well, you're buying your ticket out of this living hell. You think about trains and how much you loved them when you were little. It's not like you have to go anywhere anytime soon; that's the good thing about deciding your own death, taking your life into your own hands.

You get on the train and know you have to decide how you're going to kill yourself. You don't want to die painfully; you have the choice, right? By chance, or luck, or fate or something equally dumb, your eyes catch the list of train stops. Seymour's Lake is the third on the list. You figure it has to be somewhere near a lake, right?

Seymour's Lake will be the stop where you walk off and it will be the last time people see you alive.

Seymour's Lake is a ways away, you realize. You are somewhere in the middle of the list, and the list has to repeat itself before getting back to Seymour's. You begin to get nervous somewhere in transition ­between Cedar and Somethingtown. Your hands fiddle with your favorite cardigan (after all, you don't want to die in clothing you hate) and your toe starts tapping inside your shoe to what you guess is the beat of your heart. Finally you decide that if someone talks to you before the stop at Seymour's, you won't. You won't do it, you won't go. All this nervousness will either make you kill yourself, or dissolve into a little bundle of hope directly under your stomach. That is, if someone talks to you.

And miraculously – because let's face it, people don't just come out of nowhere and start chattering – someone does. His name is Kit Thomas, his real name is Christopher, and he's quick to tell you that all he needs in life are cigarettes, instant ramen, and paperback classics. An hour later you know that he really loves children, he's going to name his firstborn Leo Fyodor, and that if he doesn't die in Russia, it's not really death to him. You lose track of the hours when the second blends into the third, until suddenly it is some ungodly time in the morning and Seymour's Lake is next.

You both get off, because hell, a few hours ago you were considering killing yourself; might as well get killed by this interesting stranger. You end up back at the station, waiting for the seven a.m. train, soaking wet and laughing at Kit's impersonation of that guy on television, and you can't believe how much you love life.

***

Kit is in one of his moods again. With a cigarette propped between his middle finger and his ring finger, dark circles under dark eyes clashing with pale skin, he's a vision. "You see, your train analogy is all wrong, darling."

"Really?"

"It's not the trains that make life; it's the train stops. People come and people go; memories come and memories go."

"What about death?"

"What about it? Life doesn't revolve around death. It's just another train stop."

"Then what about after death?"

"Just more train stops. I mean, when you're a teenager, you never know what you're going to be as an adult. Same as when you're ready to die: you just don't know what it's going to be like."

With his wild analogies probably pulled out of his butt and his arms flying everywhere to get you to see the beauty in them, you realize you love this strange, babbling creature.

You are 18 and two years ago you were going to kill yourself.

***

You wonder why people can be so blind to themselves. Beautiful people often call themselves ugly. Intelligent people often call themselves dumb, and good people often need to prove their goodness by running off to war. Or that just could be Kit. He ­announces it over some shabby dinner you made that he says he loves even if he really hates it. He says it's because he feels he doesn't do enough for the children, for his country, for everything. It's basically lost on you because suddenly your horrible cooking has become so much more interesting and your throat is dry, but it's not from the wine. You want to laugh, ­because this is coming from the man who recycles, who watches political conventions and donates to any kind of drive. If he's not a good person, then you don't even deserve hell.

It's probably your fault. He wants children; if you could give him children, he wouldn't have this need to prove anything to his country or to himself.

But this is Kit, and he never blames you, and you shouldn't be blaming him but you break a dish after dinner just for the hell of it and start crying. You feel even more pathetic than a 16-year-old who wants a window out of the world, picking up broken china and leaving tears on the linoleum. Until Kit picks up you off the floor and just holds you against his chest.

This is heaven, wishing you could stay like this ­forever.

This is hell, when you remember that you might as well have wished for a unicorn.

You are 20 and you haven't thought about Seymour's Lake in a long time – until tonight.

***

The ringing of the phone might sound innocent enough, but not in your too-large apartment with its too-big personality; you've never felt so small in your life as when the ringing echoes off the walls. You ­answer the phone and hope it's not that call, dear God, dear Buddha, dear whoever is listening, please let it not be that call.

It's a telemarketer selling something or another and just for the hell of it you buy two. You need to give Kit something when he comes home, after all.

When it comes in its rather average brown box, you restrain yourself from opening it, and instead shove it onto the top shelf behind old sweaters. Then you wait and eventually your days just become sleeping, working, and waiting. And finally, when that other call comes and your whole world shatters into mirror-like pieces, you hang up the phone and you can't keep from laughing.

Now your days consist of sleeping, working, and not remembering. If you do remember, you try to think of train stops and trains only. You think of what Kit said about people coming and going from train stops and now you can prove that he's wrong, because he never leaves your train, no matter how many stops there are.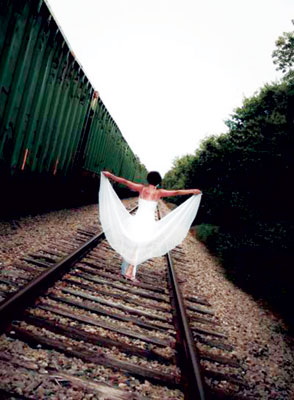 © Olivia E., Alto, MI