Around the Rosie
MAG
October 8, 2009
I take a deep breath and inhale the humid, summer air. My sweaty palms hang at my sides as my fingers play with the laces of my dress. My heart pounds against my chest, and my brain pulsates rapidly. I hear my sister speak, but her words are lost to me. They are unable to surpass the ringing sound that encompasses my lobes.

I do not need to hear her to understand what she's saying. We had run it over and over again as we made our trek to the solitary tree behind our house. A lone swing hangs from its dry branches – put there by our father once upon a dream. The cicadas that cling to the tree's bark fill my ears alongside the ringing sound. I gaze at the dry grass encroaching across the earth; another normal summer day in the blazing heat of July.

My sister clears her throat to get my attention. I turn to face her and take in her form. The white Sunday dress Mother bought her not a week ago. A small red stain at its hem threatens to wrench apart its purity. I've always been jealous of her; I'm not even a shadow when scrutinized beside her. I'd humbly stand beside her as the grown-ups remarked on her posture or how well she was learned. Her golden hair comes down in subtle ringlets to her bosom, which has already begun to develop; the boys adore her, maybe a little too much. Her lips are always the perfect shade of pink, and her nose complements her with its perfection. What really catches everyone's attention though are her deep blue eyes; profound chasms that enlighten others with a strange euphoria.

Jealousy is a fickle thing, though, for however much I envied her beauty as I stood for hours criticizing my own plain form, I would never wish to be her, always striving to perfect her already-perfect world, always maintaining a perfect visage. For who would allow her even the slightest slip of the tongue? Mother drills lessons into her every day from dawn 'til dusk. Father eyes her in a not-so-fatherly manner. No, my sister could keep her perfect world; I would continue to be the dreamer.

She hands me a pile of berries – Solanum dulcamara, or bittersweet nightshade, as it is commonly known. They are small, bright red. How could a berry so beautiful be so powerful?

"One," she whispers. I take a deep breath.

"Two," I reply, my heart pounding rapidly.

"Three," we say together. I swallow the berries and feel them tumble down my throat and into my stomach. Qu'a fait est fait. What's done is done.

Time passes as we take turns on the rickety swing. The wood creaks and the rope sways. My head throbs more and more. As my sister swings I see her white dress glow. A bright ethereal light blurs my eyes. Her skin becomes translucent.

My turn on the swing. She gently pushes my spine. My stomach lurches as the swing goes back and forth. I feel like all the food I'd ever eaten in my life is ready to come back up, that it wants to escape its dungeon and be set free. The symptoms are just as the book had said.

"Rowan?" my sister breathes. She too has come to realize her fate. Her breathing is labored, "Can we play Ring Around the Rosie? Like when we were little?"

Just like her, always wanting to make light of the moment, but I smile. Of course I'll play. There is nothing I'd like more. We interlock fingers, our hands closing around each other. We spin slowly, around and around, picking up speed. Then we sing, our voices becoming one, without distinction:

Ring around the rosie – It's getting hotter the more we spin – Pockets full of posies – My heart has begun to slow, almost to a stop – Ashes – My eyes sting as they fill with tears – Ashes – My head spins – We all fall down – I close my eyes.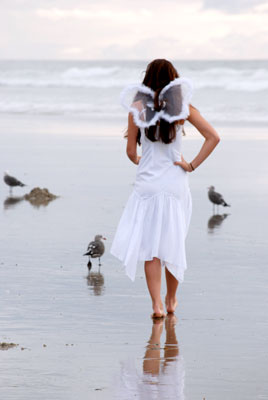 © Junia Z., San Diego, CA