Memoirs of the High School Loner
September 22, 2009
Monsters. Haunting the human mind. This is why many of children ask their parents to check in the closet and scare the monsters out from under the bed. My mother laughed at my fear as a child of the space between the wall and my bed post, where I was convinced a river ran holding demons, nightmares and crocodiles that would crawl in through my ears closing off the light. Sitting in my stall in the girl's bathroom eating my wonder bread sandwich is where I experience that these monster were real and that they takeover our minds as we grow older.

From the safety of my stall is where I hear the gossip. I knew that the "perfect" couple, Stacey and Adam, had broken up just three days before their first anniversary, before any of her clones. I knew that John was cheating on Ashley with her best friend Patricia, three months before Ashley herself knew. I knew that Bella planted the drugs in Kayleen's backpack that got her sent to Juvy. Everyday teenage girls come into the privacy and safety of the girl's room to do their evil bidding, never knowing they are reinforcing my decision to ignore my mother's request's to be more social and less afraid of others.

I see the two faces that everyone has, I sit in class and listen to what they say to the public then at lunch I learn the truth about how Jessica got a nine-month "leave of absence". The world, filled to the brim with monsters, I just hope they do not drag me down the river with them and I can stay safe in my bed with nothing to fear and the light continuing to shine for me even though the world is so dark.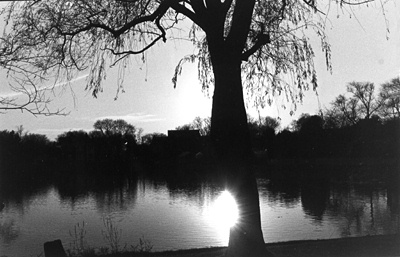 © Chuck K., Marblehead, MA