Please Come Back
September 19, 2009
I wish he didn't have to go. I wish I could just tell him "Stay!" Because he's my world, he's all I need... Wish he was with me everyday.

Please come back.

"It's bout time for bed." Mom said firmly. He looked over at me from his seat right next to me on the sofa.
"Walk me to my car?"
Of course I would. It's virtually the only alone time we get.
Look at me. I need you to love me. Because I live you. You're my existence.
"Ok."
I stoop up, slowly, walked to the door, slowly, put on my shoes, slowly, and began the ancient "goodbye" ritual, ever so slowly.
I needed him. That much I knew. I couldn't stand to be without him. I depended on him for my happiness.
I watched him carefully, hoping he wouldn't look back at me and catch me watching as I followed him to his car.
"So… Why does this always happen, again?"
"The leaving thing?" I answered with another question.
"Yeah."
I melted into his arms, closed my eyes, and hugged him tighter. The moon was bright. I heard the owl, calling out to the night.
God, why did he have to smell so good? Why did he have to feel so right?
Why did I have to let him go?
I slipped my hand up and down the perfect curve of his back.
"What are you thinking?"
His voice was so sweet in my ear.
But I had so much going through my head, so many things that I wouldn't be able to tell him about. So I just shrugged.
How did you say "I love you" when you meant "you're my world, you're the one, you're my everything, you're my heart. I can't live without you."?
Don't make me say it. Don't make me look up. The bend of your shoulder is my little cradle. Don't make me leave it. You baby me all the time, just let me be the baby now. Don't tell me my mom is calling from the porch. I hear her. I know what you're gonna say. You'll look at me with those eyes, the ones that look right through me into my heart, melting my legs under me. That childish look with the serious beginning and the goofy-smile end. You'll look at me and say, "Last chance, get in the car."
So I'll grab hold of your neck, so you don't see the tears swelling behind my eyes.
I took one last breath of your intoxicating smell. I lifted my fingers out of your hair. Don't go…
"Goodnight."
"Goodnight, baby."
You just keep holding me. You know I hate it too, don't make it worse than it has to be. I know you hate it when I try to push you away, but try to understand, the longer you stay, the worse it'll be when you have to leave.
"Let go." I whimper weakly, but really mean "hold me tighter."
Once free from your grip, I turn and run, without another look back.
"I love you!" you call out. I wave behind my head. I run, toward the house, seeking for the porch light through my blurry, teary-eyed vision, as a guide. Away from my beacon. Away from the light that makes my way clearer for a while.
Don't leave…
How could I have known… I didn't even feel… That this thing we do so often, meant something more today. The final "goodbye". And I didn't even say "I love you" back…
Now everyday, the light, it says goodbye. You're gone, my shining star.
Why hadn't I been there in the car? And went on with you? Why did you leave me?
I told you to go. ME! I did this!
And now you're DEAD!!
MY LIFE! Is gone.
You left me.
The light, so bright, guiding my way. Now nothingness, the dark. No more of anything… No more delicious lips. I gave myself to you! No more sweet smell. Everything just reeks.
Hold me. Why can't you? You always held me when I cried. But you don't care anymore, you're resting. Sleeping.
Home is gone, because your embrace has left me. Your warm presence replaced by a blanket of ice. Sheets of cold, hard yearning for your touch.
I love you.
I love you.
But you can't love me anymore.
You're dead.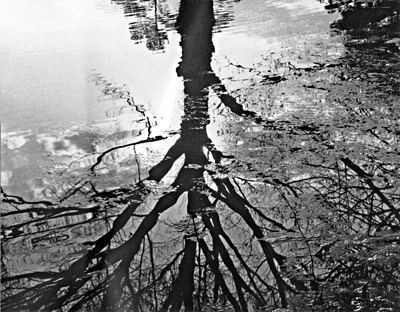 © Ciara B., Kennesaw, GA