Vandalized
September 18, 2009
I blinked, squeezing my eyes closed as I tried to wake up. But no, I wasn't asleep, as much I wanted to be, I knew I wasn't asleep. I wasn't in dreamland, wasn't floating on the mystical clouds of slumber, I was locked in a bathroom stall as my vision remained dark. I could feel the weight of the tester in my hand, weighing down my world, my other arm swathed around my waist, as if I was going to be sick. My eyes opened. I knew I couldn't bear to look down, couldn't bear to glimpse at the fate of my future, couldn't even look past it, at the toilet, so instead I began to stare at the stall door. Dark green, ancient paint was chipping away as my gaze rolled over it. Scrawlings of vandalism littered the door, telling different tales of different people, different gossips, different scenarios of lives lived through these hallways. I read them over and over again, fighting back the reality as long as I possibly could.

"Susie loves Rob."
"The stupid b**** named Caitlin had to go and steal my boyfriend. Keep your claws to yourself, girl."
"Just stuck my finger down my throat. My body is the weight of today's French fries lighter."
"Not a virgin anymore. Not after last night, anyways."
"Susie hates Rob."
"Just got my heart broken by the guy who told me I was his everything. Does he have anything now?"
I reached into my bag, pawing for my pen, uncapped it, and began writing on the door.

When I was done recording my very own tale, tears were finally streaming down my cheeks, and I looked down at the tester in my hand. The tip was still wet, and the screen had long pronounced the results. I put my other hand back to the wall, the pen already etching, scratching away the paint as I finished writing down my words.

"And the test was positive."
I picked myself up, wiping away my tears, getting back up because I knew that falling doesn't mean that you should just stay down. I slung my bag over my shoulder, wrapped the pregnancy test in layers of paper towels, covering it up and erasing it from the world, threw cold water on my face, tossed out the destroyer of my future, and walked out the bathroom door, hearing it swing closed behind me as I strode down the hallway. The moments of high school were going on around me, and I stopped. Awareness came into my horizon as I paused smack in the center of the hallway.

I was just another girl there. Another girl who had determined her fate in the bathroom stall, having made the wrong choice many nights before, only coming to terms with it moments ago. Another girl who had signed away her life on the vandalized door, flawing the smothered green cubicle as essence drew on around her. I was just another girl here at the place called high school, walking again, only this time not back to class, only out the doors now, into the early spring air. I didn't stop until I was in my car, the engine spitting as I forced it to go faster than it could, racing away from the life I had known. When I finally faltered, I made myself turn back around, to go back home. It was dusk when I pulled into the driveway. The porch light flicked on and I slumped forward against the steering wheel, my mind evoking the vandalized door, the words I had written, and how I had signed my life away. When my mother's hand opened my unlocked car door, I pulled myself up to look at her. I knew that she saw the look in my eyes, the look that said I had been vandalized. And there was no way to erase the ink.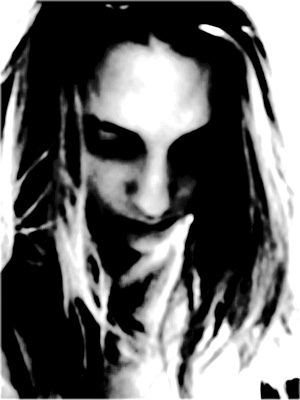 © Maria B., Boston, MA