13 Maple Lane (Extended Edition)
August 21, 2009
Tyler skipped home from his first day of kindergarten whistling through the space his first lost tooth had made. A gold star sticker was stuck on his forehead and pinned to his brand new striped polo shirt was a badge that read "Hello, my name is Tyler Marts!" in the teacher's neat print.

Tyler liked Mrs. Appleton, she was nice. She had her mousy brown hair up in a bun, and her shirt had the letters of the alphabet on it. That's what she taught them today. Tyler had earned a gold star because he could already say the entire alphabet all the way through. He even knew the little bit at the end "Now I know my ABC's, next time won't you sing with me!" Tyler decided that he liked school very much.

He didn't have very far to walk, and it was a quiet suburban neighborhood where the worst crime that had ever been reported was a few rowdy, drunken teens disturbing the peace, and the streets weren't very busy, so most of the school children walked to and from school without their parents. This made Tyler feel very grown up, now that he didn't need to hold Mommy's hand when he walked down the street.

Tyler stood up on his tiptoes and turned the doorknob, nearly falling over as the door swung inward. His mother, Tina Marts, was making a peanut butter and jelly sandwich in the kitchen. Tyler ran in, slinging his backpack on the couch and breathlessly told his Mommy all about his day, only quieting to take a bite of his sandwich.

"That sounds wonderful!" Tina said. "Can you say your ABC's for me?"

Tyler obliged, speeding up for "elemenopee". He lisped slightly because of his missing tooth, which only made it that much cuter. Tina ruffled Tyler's curly red hair and laughed. "Good job!" Tyler grinned, blushing till his freckles were barely noticeable, his chest puffed out with pride and his green eyes smiling.

Gordon Marts was a successful businessman, and he didn't have time to hear about Tyler's day, but that didn't stop Tyler from running around behind his daddy and repeating the story seemingly all in one breath.

"Uh huh, that's nice son," Gordon said absentmindedly. Tyler didn't seem to notice his father's indifference and proceeded to sing his ABC's as loud as he could.

"Did you hear that, Daddy? Did you hear it? I'm all grown up now!"

"Uh huh." Mr. Marts flicked open the evening newspaper to the business section, checking out how the stock exchange had done. His shares had gone up several points, which put him in a sociable for dinner that night, which was always a family affair, even if one of the family wasn't technically there mentally.

At the dinner table, Mr. Marts talked excitedly about the stock market and new sales projections for his computer manufacturing company. Tyler, not ready for the attention to be shifted away from himself, talked incessantly about school, sometimes repeating something he had said several times. His father ignored him and his mother tried to listen intently to both, not saying a word, but letting them go on and on and feel like the center of attention.

After dinner, Tyler went outside and rode his tricycle around in the driveway, laughing and riding into the side of the house or around in circles. Every once in a while the wheels would stick because of all the times Tyler hadn't listened to his mother and left the trike outside for the night instead of putting it safely away from the elements in the garage. He'd push hard in the pedal, tongue sticking out of the corner of his mouth until he got the wheels to turn again and went on laughing and riding in circles.

Inside however, all was not well. An argument was brewing about Mrs. Marts's spending habits which then moved on to Mr. Marts's lack of involvement with the family. They disagreement had been simmering for days, waiting until Tyler went outside of earshot. It boiled over the minute Tyler was out the door, harsh words and expletives flying back and forth.

The Marts were usually careful to have the whole thing cleaned up neatly before Tyler came back inside each night, but tonight was different.

Tyler heard a loud explosion from inside the house. He left his tricycle in the driveway and wandered pack inside to investigate. Inside, he saw his mother's body, lying in a heap on the floor in a widening puddle of blood, Mr. Marts standing over her.

"Daddy, what happened!?" His innocent's child brain could not comprehend what was going on, but his eyes widened and tears spilled down his cheeks. "Daddy what's wrong with Mommy?!" He whined in distress.

Another gunshot.

Mr. Marts picked up his suitcase, which was packed and sitting in the hall, hopped in his SUV and fled town, never to return.






~ ~ ~

The wind blows down Maple Lane, stirring up little tornadoes of crisp fallen leaves. Twilight settles down over the landscape, sucking the color out of everything, making the rows of perfectly maintained houses and manicured lawns look like an old black and white movie, every property seemingly identical. Except for one thing.

In the driveway of 13 Maple Lane sits a tricycle, it's handlebars loose and turning back and forth in the crisp October wind, squeaking in the silence. It seems to have always been there, left behind by some careless child. The windows of 13 Maple Lane are boarded up, the ivy slowly overtaking the crumbly old walls, the sagging roof beginning to form holes in the soggy shingles and the lawn a hopeless tangle of weeds.

Some say, on a day like today, when everything is gray and the wind is blowing, you can hear laughter, long after everyone has gone inside and locked their doors…coming from 13 Maple Lane.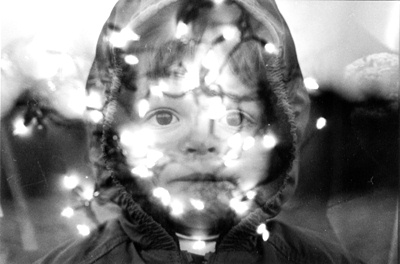 © Caitlin B., Marblehead, MA