Black Nail Polish
July 10, 2009
I started picking, picking, picking at that black nail polish. I was trying to drown out his voice. The words ran together in one loud hum. I knew he was yelling. That was all he ever did.

His pinch slapped me back into reality, "Are you listening to me girl?!?" I didn't answer and went back to scratching off the nail polish. "Maz! Look at me! I'm talking to you girl. I'm talking. Can't you hear anything you mental case." I closed my eyes and stuck my fingers in my ears. I just needed to drown out those words.

He shook me, "Mazarella! Honey just look at me! Show me some sign you aren't going to turn out just like her!" Her being my mother. I kept playing with my fingers. "That's it! You're going to New Hampshire! You're going to live with your aunt!" That snapped me away. "No Dad! No! I can't leave mom! She needs me!" Dad pulled me off the ground. "No no no no no! Please please please," I sobbed, "We need each other and ever since you took that actor job and left us she's been a wreck. Where will she go Dad Where?" "She's going to a hospital and there are gonna be some people there that will help her." "You mean you're gonna take her to a mental hospital to talk to some shrink!" "Yes, honey, yes. It's for the best. It's what she needs." "No! You don't know what she needs. You haven't been here to see!" Dad sighed heavily, "I'll be back to pick her and you up tomorrow. Love you sweetie." I backed away from his kiss and karate chopped him. He looked at me his eyes heavy, "Please act your age." This time I karate chopped him 3 times fast and Dad just walked quickly out.

I bolted the door and ran to her room. She lay there like always not talking, not moving, her eyes closed. I shook her. "Mom we have to go! Remember how you told me to always protect you! To never let him take you away! Well mom he's coming! We have to go. Mom? Mom? Mom?" She lay there pale and beautiful not talking. Mom's lips moved but nothing came up. I tried to pull her off the bed but she was too limp. I fell onto the floor, "MOM! WAKE UP AND SAVE ME!" She never moved a muscle and I lay there sobbing.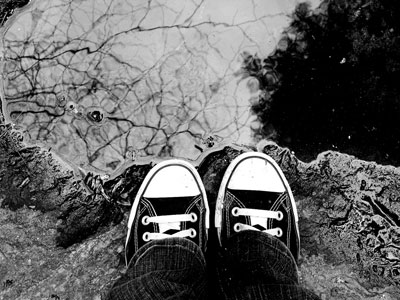 © Michelle B., Blairsville, GA