Testing Faith
June 24, 2009
Moony was a good little catholic boy, at least as far as his momma could tell. Sure, he went to church every Sunday like a good little catholic boy, but he told me he really didn't belive in any of the stuff. I believed though. Back then, if Momma said it was so, it was so. I bet she could've told me white was black and elephants were purple and I would've believed her. But not Moony. He had a mind of his own and he was not afraid to use it.

He believed in what he saw, and he saw everything. That's why people called him Moony, because his startling blue eyes were always wide open, taking in every minute detail around him like he was afraid of missing something important. He was my best friend, and even though he didn't share by beliefs, I can remember only one instance when he ever said anything about it.

It was a hot summer day, and me and Moony were sitting on the swing with popsicles, not really swinging, just talking.

"If there is a god," he said thoughtfully, faced turned up to the sky, "He'll make it rain." I looked up doubtfully. We hadn't had any rain in a week and the air was devoid of humidity. There wasn't a single cloud in the clear blue sky.

"Momma says you shouldn't test God," I said, just like any good little Christian girl.

"How does any one know he even exists if he never proved it."

I truly believed in God, but still, I couldn't help but wonder at those words.


When it rains, it pours, and by God if it didn't rain all the rest of that day and most of the day after. And looking out through my rainsplattered window, I couldn't help but wonder if this was enough to change his mind.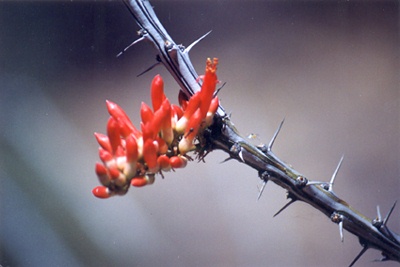 © Andy G., Phoenix, AZ