The Cost Of Making A Dream Come True
July 18, 2019
" What a day it had been! First I missed my bus ride to the office and then my stupid boss gave me a lecture for an entire hour about being responsible. And then later in the day I had to skip my lunch for completing a task, had an awkward encounter with a stranger who claims to have once been my friend. The worst thing is my ipod fell and broke and it was all his fault! Worst day ever! At this rate, I don't think my dream of visiting Paris independently is gonna come true any soon!" **pause** " Yeah okay mom I know how to take care of myself, I'm not a kid anymore. Okay bye, gotta catch a cab home, luv u lots!"
I cross the overly crowded street to reach to the other side, where I usually find more cabs moving aimlessly. I had to wait for just a few seconds before a cab pulled in front of me asking if I needed a ride. A let out a sigh of relief and explained to the driver where I had to be taken. It was odd, because I felt as if he wasn't paying attention to any of the details. Before starting the engine, he told me not to worry and that he'll take me to the exact location.
Looking outside, I thought of how much I loved Paris and wanted so badly to visit it one day. I had been loving pretty much everything about that city from when I was a child and had ever since made it my life ambition to visit it. I wonder if i ever can. Just then, my phone started ringing. I pick it up to hear the voice of my bestie; Zuri. " Hey Cassie! I have been reading this ancient book of legends and read this awesome legend! It says here that there used to be a car which used to pick up people and drop at locations at which they needed to be,not those they want to be at. It sounds so cool,doesn't it?" came in her voice without a break for me to respond. " That's cool Zuri. I am currently going to my apartment, will call you after I reach". "'Kay, bye!". I kept the phone away and resumed looking at the lights flashing through the window.
I opened my eyes at the voice of the driver shouting my name. I looked at his face at first with confusion and then he told me we arrived at the required location. Looking outside took a troll on my mood; from sad to worse. "This isn't the location I have told you to drop me at!", I yell at him. " But ma'am, this is where you're supposed to be right now. Go in fast, their office closes at 7 pm", said he and told me to get out of his car as he has some where else to be. Cursing him, I got out of the car, to know where I've actually been brought to. The driver left even before I had the time to paytm him. "Weird guy!".
In front of me is a travel agency's office. God knows why he brought me here! I turned to leave when a tall guy looking in a dignified manner came running towards me. " Hello madam! I hope you're Cassie Cooper. We've been waiting all day". I was completely taken by surprise at his words. I told him he had mistaked me for someone else and that I had never thought of coming here. He just smiled and told me to come in and I will understand everything.
I went inside the office and the guy, who called himself Norman, lead me to a room filled with chattering men. On my entry, everyone became silent and directed their attention toward Norman as he began speaking to them in a lowered tone. He signaled me to be seated for a while. After a couple of minutes, they all turned towards me and Norman started speaking to me. " See Cassie, what you're about to be given is a rare oppurtunity which we give only to special people on a yearly basis. Your dream of visiting The city of lights - Paris, will be made into reality by us. We are going to handle all the expenses for your travelling and accomodation and include an extra amount of around 850 dollars for you to shop and enjoy yourself to the fullest." I almost thought I would faint after listening to whatever he said. I asked if all of this is prank, secretly hoping its not. They laughed and told me that many of their clients have had the same response." So you guys are really going to make me visit Paris? ", I asked. " Yes Cassie,you'll be going to Paris in the coming week. So pack your bags for a 10-day trip." After my face brightened up and I was convinced, this is really happening, I jumped up and down in front of all the agents and was smiling so widely that my jaws hurted. Then Norman began talking..." But, we have a condition. You have to do an adventure on the very first day you land on Paris. It's going to be really fun and you will be given the full accomodation only after you complete the adventure. If you couldn't complete it,then you're gonna come right back to this city of LA and pay for the travelling tickets, both for to and fro. You'll then not be visiting in Paris . Only if you accept this deal will we start all the paper work and make the required plans. Deal?", he asked. At first I was a bit sad but then realised its just a small adventure and accepted without thinking twice. Norman then reassured me it wouldn't be very risky and I will be able to do it. I smiled and thanked them whole heartedly. I left the office grinning widely.

***the coming week***

All my luggage is packed and I'm ready to visit Paris. I can't contain the excitement. My mom and dad along with my sis felt very happy though they were doubting the agency at first. Zuri congratulated me and made me throw a party yesterday. She thought that the legend she was telling me about earlier in the cab had come true as the cab driver left me at a place where I really needed to go. The agency people have escorted me to the airport and gave me a credit card and told me the pin. They told me some general rules and gave me a number to contact for any help. Very delighted, I board the airplane. I got to sit at a window seat, which is my fave seat in any vehicle for that matter. After the plane took off, I began wondering how the driver took me to the agency, how the agnecy people knew my dream and arranged this trip. I tried to bring up that matter with Norman many times, but he just said it's private and he's not to reveal it until I finish my adventure. I see the clouds hovering in front of me. It makes me think about what kind of adventure is awaiting...
Dear Diary,
As soon as I landed in Paris, a car came to escort me to the resort the agency people booked for me to stay at. Moving through the city, I could see that it is just how I imgined it would be like. I was giggling and taking photos with my camera. The hotel looked very luxurious and I couldn't get myself to believe this was really happening. I told my name at the check-in counter and they immediately acted as if they recognised me and gave me my room keys. I then was lead to my room which looked nothing less than a room made for gods! I raced quickly to the balcony and hoped to see it and there it was; standing gracefully and being the center of attraction; The Magnificent Eiffel Tower! I loved the view and it was magical to be here experiencing all of this. Then my phone rang. The voice from the other end told me to freshen up and get ready for the task. I asked him who he was and he told me I could see him at the place where I'm going to finish my task. Then I had a change of clothes, splashed my face with some water and headed out the door. Outside was a fancy roof less car waiting for me. The car took me to Champ De Mars, 5th Avenue, where the Eiffel Tower stood admirably.
The place was packed with people holding cameras and as soon as I got down from the car, all the cameras focused me. Not knowing the sudden cause of attention towards me, I just smiled and walked towards the base of the tower. A lady named Mia told me that a surprise is awaiting and lead me to the top of the Eiffel Tower in the elevator. I was completely excited, not knowing about what lay ahead..
When we reached the apex, the view made me go speachless! My dream finally came true. I thought I was the most luckiest person alive, until the lady showed me what I'm supposed to do. There were a bunch of people waiting, and they all greeted me. Then the lady told me to get ready for a chilling adventure no one has ever done. I then lost my coolness and asked if I was going to be the first one to do the "task". She said yes; " Cassie, now you're going jump off this Eiffel Tower while bungee jumping." I was completely shocked. "Wait, I'm supposed to do bungee jumping from here? They said it's going to be very simple and not risky!" "Yes my dear. It's very simple, you close your eyes and we'll push you. We have the best quality gear to keep you safe. See they have also arranged an inflated trampoline incase of any emergeny", and she pointed towards the ground where they were inflating a huge balloon shaped trampoline. The lady then signaled the crew to secure the belt around me. I was not aware of this situation but then I worked up myself to face the fear. A memory flashed through my mind of my childhood when once I tried small scale bungee jumping and ended up crying. That was the last and I never thought about it.
People were gathering up at the base of the Tower to see me jump. Everyone were holding cameras and I spotted media crew too. All the belts have been tied and a saftey trampoline was inflated at the base in case of an emergency. "We're ready to go Cassie. Say the word and close your eyes. You'll be pushed or if you're brave enough you can jump on your own. Everything has a cost darling. Just a jump, hang in there for a few seconds and we'll pull you up. Okay?" she asked me with a smile. I smiled back and said nothing. She signaled again to a guy operating the machine to take position. I took a deep breath and decided that I would jump all by myself. Then, the people began a countdown from 5 and went on to 4,3,2 and 1! I jumped or I can say, I let myself fall from the top of the Eiffel Tower and closed my eyes tightly.
The wind rushed to my face and I can hear the 'ooh' s and 'aah' s of the crowd. In the air, I got back all my memories of how much I used to tell my friends about how I wished to visit Paris one day and see the Eiffel Tower. Now, falling or as it was described as jumping from it, seems very surreal to me. It seemed as if I kept on falling for eternity until the belt around me stopped me from falling at a certain position. I opened my eyes to see the crowd cheering my name. Then I was pulled up a bit and made to fall down again. They made me to go up and down and I actually was loving the view. I then started smiling and laughing while making small shrieks everytime they suddenly made me fall down after they raise me to a certain height. Then after about a couple of minutes in the air, they started lifting me all the way up. I safely made my way up the top again and everyone gathered around me to congratulate. " That's so cool girl, took some guts!" "Omg! I would've screamed if I was in your position Cassie! You were awesome.", came in the comments from everyone. Then Mia told everyone to clear out and make way for me so that I can leave the place for the day. I felt confident. I started beaming at the cameras when we got down the elevator. Two other tall guys accompanied Mia in making way for me to enter the car.
After I reached my room, I laid down on the bed and took long breaths. Today was magical. While coming in the car, my mom and dad called me and congratulated on my adventure. They said they saw the whole thing live on the TV and told how brave I was to jump from the top of the Eiffel Tower. I still can't bring myself to believe all this has actually happened.
Just then my phone buzzed with a notification. I opened the message;
" Hey there Cassie! Hope you remember me. Oh you don't, do you? You were amazingly brave to jump off the Eiffel Tower. That was awesome. But what I want you to know is that, I'm the one who arranged all this. I knew you would do it Cassie, I always knew. Now go on and enjoy the 10 day trip. We'll meet later in LA.
- from your admirer, who was also your friend once....
Dated; August 13th.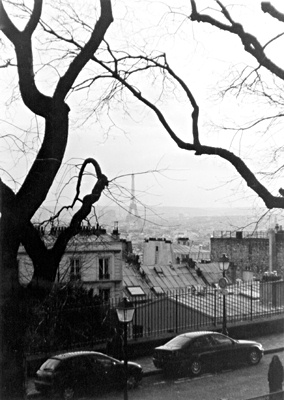 © Lena K., Marblehead, MA