My Life As Music Videos
May 8, 2019
"What??? Is this really happening or am I dreaming?". I sat there on the bean bag in my room,late night,gaping at the screen of my tab. I couldn't believe that Sabrina Carpenter; the famous singer just uploaded a music video a few seconds ago...well the part that I don't believe is that the song entirely describes a situation of MY life!!! The song lyrics are literally the sentences which I spoke and described the situation which I encountered a few weeks ago! And the video was the exact description of what happened,with the EXACT same outfits! I really couldn't believe what I was seeing.
Completely bewildered,I took my phone and rang Sarah AKA my bestie since the beginning of time and asked her to check the song. She called me after like 4 minutes and was screaming about the song being a take of when we both had an epic shopping-netflix-sleepover marathon. I told her that I was as shocked as she was and something was up. When we told my mom on phone about this,she just sighed and told us to let go of it and that it must've been a coincidence. I wasn't convinced though." The outfits of those two girls in the video were are the same exact outfits",I tried to reason with mom,but she cut me off telling that the shop that we bought them from don't make the outfits just for us.
"There's no way this can be happening! How could they steal the whole scene from us and make a song out of it?" quetioned Sarah walking in circles. "Sarah the main question is how did they capture us doing all that stuff?" I shot back."Maybe they were spying!" replied Sarah. I couldn't believe it. How can a world famous singer spy on us for inspiration? After a few suspisions and frustrated convos,Sarah left and I was alone in my apartment with a million unanswered questions.
The next day,as I went to Starbucks for a quick coffee before heading to college,a notification popped up in my phone. I ordered a double latte and sat at a table, opening the notification. It was about a new single released by the pop star Selena Gomez! Being the selenator that I am,I popped in my earphones and started listening to the music video. To my surprise,the video seemed to be familiar. IT'S THE SCENE WHEN I HAD MY FIRST HIGH SCHOOL DANCE! I couldn't believe my eyes. How can a song be about my life?
Then I saw Sarah racing into the cafe. She came running towards me with a perplexed look on her face,holding her phone. I knew she just saw the new video song of Selena."Tessie did you see this new video?" she asked. "Yeah" I replied," I don't understand a thing about how Selena captured me during the dance". "Selena? What are talking about Tessie? Ross Lynch released a new song relating to that camp you organised! This song too had the people wear the same outfits!"
I wish I could wake up to the sun hitting my face through the curtains like everyday. But no,this is what is happening. Can't avoid the reality. "Selena released one too,about my first dance in high school",I told her. "WHAT?" cried Sarah,so loudly that the people in the cafe turned to look at us. I grabbed my drink and we both headed outside. Both of us knew nothing about how my life's most memorable experiences are turning into music videos by world famous pop stars. We walked into the college to find everyone gossiping and asking me quetions about how my life is getting pictured in video songs. Well,that's the question which I too want an answer for.
The day went by faster than usual. Many cheerleaders and jocks came to me and offered me their numbers. Another proof that only fame attracts popularity. Before college ended,three other songs have been released by Dove Cameron,Harry Styles and Chain Smokers! All were about different experiences which I really enjoyed in the past few months. Though one part of me is totally confused, the other part was actually enjoying all my most cherished life experiences being turned into music videos!
I went back to my apartment and decided to have some coffee before I try to figure out this 'song problem'. After a cup of coffee and scrolling through twitter,I got to know that the songs were a huge hit and everyone are loving them. Then I found an interview of Sabrina confessing about where her inspiration came from. She told that she had a dream about the scene and it was so good,she decided to make it into a music video! I didn't believe that at first,but then I found multiple interviews of Selena,Chiansmokers and Ross telling that all of them got their inspiration of the video songs from the dreams they had. Unbelievable! How can they get dreams about my life?
I made a call to Sarah and told her about the interviews. She pretty much reacted the same way as I did. She then said that she will come over in 30 minutes so we both can solve this puzzle. I had to admit, unlike me,she seems rather excited about all this stuff just like the others.
After sometime,I heard my door bell ring. I assumed it was Sarah and opened the door to let her in. But I saw a face which had no resemblence to Sarah's. She looked very bold; her black hair hiding her dark purple eye shadow and was wearing a matching lip stick. She had her nose pierced with a metal ring and was wearing a black dress with a black fish net and a thick violet choker. "Not to admit,you look like you just came running away from a halloween themed party. Who are you and what do you want?" I questioned sarcastically. But she looked a bit serious,so I changed my expression. "I'm Elvira. Can I come in?", she asked. I allowed her in.
There is something strange about this girl,you can see it by the looks of her. I happen to have some kind of connection to Elvira. "You probably wouldn't know that I existed Tessie. Sit down and I'll explain it to you",said Elvira and dragged me into my room. She locked the room's door and sat on the chair near my desk while I sat on the bed.
"Tessie what I'm about to say will blow your mind and I don't assume you would believe it either. So please know that I'm speaking the truth. Your mother Karen has an elder brother Zack. Both of them used to get along very well till one day Zack secretly snooped through the pages of Karen's personal diary. I don't know what the hell she has w itten in it,but Zack didn't like it and tore the pages of her book in anger. 'Sis-bro' problems I guess but whatever it is,Karen was not happy to find out that her brother had read her private stuff. This turned into a huge fight where Zack broke their photo frame in anger. Karen was equally furious. So she cursed him and told him that she would never see his face. They had been apart for over 12 years now.
I'm Zack's daughter. My dad knows witchcraft. It's really weird and hard to believe but it's true. So I learned it too. Your mother never spoke of me or Zack right?". "Nope", I said quickly. She continued, ignoring the start of my question. "Unlike my dad,I don't want to end relationships with your family. Your mom wouldn't accept to even see me when I approached her. So I thought maybe she would've told something bad about me to you. I have been observing you since a year now. I have used an incantation and made the singers dream about your life's experiences which you have cherished the most."
I was like completely blown away! "I have a neice which my mom never mentioned about? Most importantly you know witchcraft? Whoa! And you made the singers to make music videos about me?" I questioned her dumbly though I knew the answers. "Yes! I really wanted to please you so I decided to take that step. I know you would hate me for doing those things but I really wanted a sister. Any chance you can forgive me?" she asked in a soft tone. "Elvira. I don't hate you or the things you have done. It's really awesome to know that you have such a kind heart and...Of course I'll be your sister." We both hugged and Elvira broke down into tears."
It's amazing what you did Elvira! How were you able to make those singers dream about me? I can't believe there's still magic in this world!",I exclaimed. Elvira swiped her tears and gave me a big smile. " It's actually very easy. Witchcraft runs in our blood so maybe you can also be able to learn it I guess",told Elvira.
We both decided to live together and she said she would move in with me the very next day. I was so glad I met my neice or my Sister as I would like to call her now. She really is sweet but can be tough when needed. Both of us began spending time with eachother and shared our secrets. I saw Elvira perform some simple incantations and she was nailing it. She taught me a few but I need some years of practice before I perfect the spells.
Life became a bit more interesting with her. It's as if she was a gift for me from god!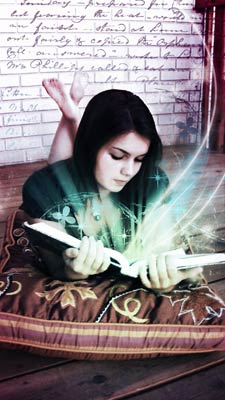 © Zuzanna C., Pheonix, AZ