A Falling Leaf
November 2, 2018
The girl walked outside for another day of work. Everything was the same in her life except for the four seasons that had seemed to come each year. It was the beginning of the month August and everything was at it's ending point from summertime. She smiled happily when smelling the full blooming flowers and the air and bright colors of nature. Across the patches of grass in her neighbor's yards, you would be able to see see the bright pink and purple peonies and sunflowers blooming with joy.

She could smell that the trees had small flowers and the fresh smell of ripened fruit that were ready to be picked and peeled and eaten with delight. Everything had a purpose and if something didn't, it now would. The dog she had with her was twitching when noticing a bird,whimpering at the sight, but instead still kept it's obedient demeanor. A few months had passed and it became fall. As she walked outside she noticed that she stepped on a half torn leaf by the crumpling sound and let her dog bring it to her. She felt it and realized it felt like crumpled paper. She knew that leaves in this time were said to have tinted shades of brown, yellow, orange, and more fall themed colors. Everyone this year either grew pumpkins in their frontyard, or had bought them from a local store for the children to decorate and take part in this months holiday. This made her smile even more. This was the only thing she could enjoy and occupy herself with.

Even if her ability to be able to see all of these wondrous things was non existent, she knew she had to use the other senses she had in life like any other day. Till the day she died, she vowed never to forget these 4 seasons again, she won't forget her happiness from it. She lost what she thought she needed to be able to experience this as she did when she was a young child. She walked with her dog again, letting him lead her to the place she needed to be, Letting this moment settle in, for the last few days of her life.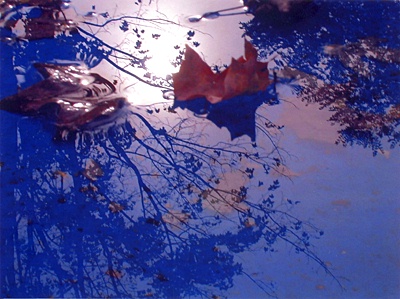 © Angela B., Holland Patent, N.Y.