Ring around the Rosie
April 16, 2014
From the Gobi desert to far reaches of europe, rats and fleas lived all over. The black death lived because of those fleas, which caused 7,000 people per week to die. Men and women were covered with back boils and ring shaped rashes, and winter didn't make things any easier. Yes. It was a hard time in europe during that time. Men would collect the dead bodies. Doctors wearing masks would walk around taking care of patients, and one doctor was especially interesting. As a child, he wanted to be a poet, but creativity was impossible during these dark times, so he just became a doctor. He'd usually go to each house, deciding how much blood should be spilled or telling families which herbs would help. After all, good smells were supposed to help the plague. Every day, the doctor did these deeds, but one day he decided to write one little poem. He looked around to try to see some inspiracion. He looked a the ring shaped rashes and the herbs people would carry around. He looked at the cremations and the people dying. This is what he wrote:
Ring around the rosie.
Pocket full of posie.
Ashes. Ashes.
We all fall down.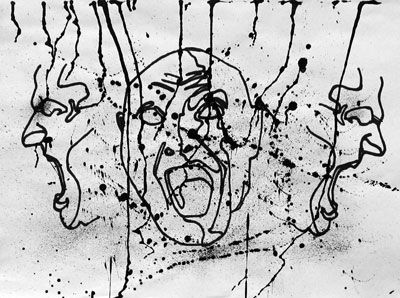 © Luke S., Montclair, NJ