My Little Ducks
September 26, 2010
I remember it quite well, the Old North Bridge. Walking across it every day was a treat. To get it the small house we used as a school or the market across the river, the bridge was the best option. The river churned and was unreliable. The Concord River, that is. That's where I live, actually. A small cottage on the river bank is my home, and I lived there with my mother. My father died when I was five.

It was built in 1760, the same year I was born. Mother was excited enough for the both of us. She used to have to use a little old rowboat to cross the river. Everything is across the river. Mother kept the little boat though. I sometimes take it out to sit in on the river.

The river is lined with trees on one side. That's the side I live on. I like it there, because most people can't even see my home. I can see quite clearly through them though. So, in a way, the trees protect us.

Walking across North Bridge in 1770, when I was ten, I noticed some ducks that were quite thin, and seemed to be alone. I ran across the bridge. When I got to the river bank, they paddled to me, unafraid. I took out the bread mother had given to me for lunch, and broke it into small pieces over the water. The little ducks ate happily, and for the first time, I knew what it was to love, to love someone other than my mother, to truly care for something.

On April 19th, 1775, when I was fifteen, mother said to me, "I'm going to go to the market." This was not unusual, but something felt different, wrong. I pushed the thought aside. Of course something was wrong. A war had begun not a fortnight ago. They said the British redcoats were going to come to Concord. Being so far from the City, I didn't know too much, but even I knew that all that had been stored in Concord had been moved before the redcoats ever set foot in Lexington. I noticed them because they crossed the bridge. If I'm around, I always notice who crosses, and last night, I even heard the first shot, the one that was later noted as 'the shot heard 'round the world'.
As I watched my mother walk across North Bridge through the window, I heard a distant sound of drums began and then stop. That's when I saw it. Across the river, some fifty yards from where my mother was headed, were rows after rows or men. British troops were halting. They wanted to cross the bridge, I knew it. But our troops would hold. There was a second of silence in which my mother realized what was about to happen. She had turned around and began to turn back to the bridge when shots were fired.
Mother had made it to the edge of the bridge when a stray bullet found her. I stood frozen at the kitchen window. This was a nightmare. This was not possible. This was Concord. Concord means peace and harmony. But this was neither peace nor harmony. This was war.
It was a mark of how quite our troops could be that I hadn't noticed their arrival. Why hadn't I simply used my eyes? I could have saved her! I could have saved my mother. I knew immediately what I had to do. I couldn't leave her laying there. She'd get trampled! I had to bring her body back. No one else would save her. We were the only ones that lived here and the troops were busy with the redcoats.

The bridge was out of the question; I'd be killed as well! But I could use the old rowboat. I rushed to find it. I looked and looked. Time was running slim. Deciding there was no time to find the boat, I walked carefully to the water. I reminded myself that I had to do this. My mother would have done the same for me, I was sure of it. I walked into the river. It was cold, but I could handle this. I must swim. I must swim unafraid. Like those small ducks, I thought vaguely.

I was halfway there. The battle was raging before my eyes. Pop, pop, pop, went the muskets and rifles. Keeping focused on them helped me think of nothing else. My clothes were now drenched in river water. Feeling heavy, I pushed on in the cold water. Nearly frozen, I stopped. I was cold, shivering uncontrollably, tired and grieving over my mother. I couldn't make it.

Then something unexpected happened. I saw, all around me, the small ducks that I had once loved. I knew not how this could be. They had died several years ago. But they swam unafraid, once again, to the shore. It took all my strength and courage, but I followed. I swam to my little, unafraid ducks. They, along with my mother, were waiting for me.


Little did I know that the Old North Bridge was to be taken down it 1793, then rebuilt in 1875, 1889, 1909 and then again in 1956. Today it stands because of restoration in 2005. A statue of a minute man was unveiled on April 19, 1875 to commemorate the minute men who greatly assisted the defeat of the British soldiers in the Battle of Concord.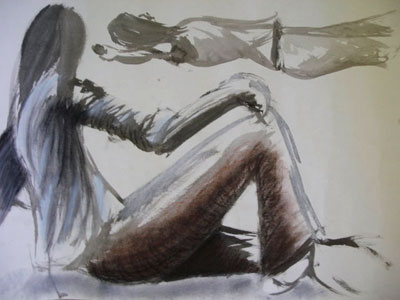 © Carollynn G., Hawthorne, NY