All the Lonely People
January 11, 2010
Father McKenzie looked through the door of his office. Eleanor had only been working at the church for a few short weeks, but in that time he felt he had gotten to know her. He had not spoken to her once. He observed her as she cleaned up the left-behind programs. She was an elderly, unmarried woman living alone in an apartment building a couple blocks from the church; he had seen her shuffling home after she finished cleaning, bundled up in a long winter jacket and wearing a hat with earflaps that left her nose exposed and pink. Father McKenzie feared for her each time she bent over to pick up a pamphlet, but never went to assist her. It was not his place.

Eleanor frowned to herself as she swept up the used tissues from a wedding ceremony. She remembered watching from the back as the couple kissed and walked down the aisle, surrounded by loved-ones who tossed rice at them as they became husband and wife. She would never experience that kind of happiness. Eleanor had long since accepted that she would not marry and start a family; the window for becoming a mother had closed many decades ago. Still she longed for company. She watched the bride as her groom kissed her; watched as the young woman's eyes closed and could not contain her smile during the contact. The woman was beautiful, dressed in a long white gown and a modest veil. Her makeup was subtle, but the feature that Eleanor found most enchanting was her shy, nervous smile as she walked towards her groom-to-be up the aisle.



Father McKenzie sat at his desk, darning a sock and smoking a cigarette. He looked through the window in his office door again as Eleanor shuffled by, dressed in her same long winter coat and worn hat. She noticed him watching and smiled softly. It was not sincere. Father McKenzie ran a hand through his hair nervously and rose. He could tell something was on Eleanor's mind but knew that she would not wish to discuss it. In the months she had worked there, she had not once spoken to him aside from the occasional work-related question. He longed to find out why she smiled so shyly and why she stayed the longest after weddings. He noticed she always watched the bride. But it was normal for unmarried women to watch the brides intently, closely, with a longing, hungry look in their eyes, was it not? Father McKenzie crossed himself.



Eleanor could tell her time was coming to an end. She had started to forget, her memories vanishing even as her mind tried to grasp at them. She rang up the church on a payphone outside of her complex and informed Father McKenzie of her resignation before returning home and locking the door. That day, Eleanor spent her time looking out the window of her townhouse and watching the passersby. A little girl stood between her parents as they walked; they held her hands and swung her up, delighted to watch their child shriek with happiness. Eleanor smiled at the display. Across the street, a young couple had an argument and the woman reached up and slapped the man before storming off. Still, Eleanor smiled. She sat there on the window seat until dusk fell and the streets cleared before going to bed. Eleanor smiled, though she had no reason to smile.

Father McKenzie anxiously paced the worn carpet of his office after hanging up the telephone. Eleanor had been a steady landmark in his life for the past year, what had caused her to quit so suddenly? He pulled out a drawer from his desk and pulled out a pack of cigarettes and a small box of matches. He stuck a cigarette between his lips and lit a match. Father McKenzie looked at the match for a minute before lighting the cigarette. He inhaled deeply as he shook out the match. The bittersweet taste filled his lungs with its pungent aroma. All too soon he had to exhale. He could feel himself relax and sunk deep into his chair. Eleanor had probably found another work opportunity; there was no use dwelling on what was now the past. Father McKenzie replaced the match box, shut the drawer, and drafted a letter to the newspaper for a "now hiring" advertisement.



Eleanor sat in her flat, daydreaming and staring out the window. Her memory had started to go, and she could no longer remember the insults, her mother's sobs and the shock written on her father's face. She was at peace with the world. She forgot her loneliness and her position as a social pariah in the community in which she was raised. She vaguely remembered Father McKenzie though. Eleanor could remember the office that secluded him from the rest of the world. She could almost picture in her mind's eye the priest's crooked teeth and dark hair. Although she did not understand why, she felt pity for him. Eleanor shuffled out of her flat, forgetting she had a kettle on the stove. She did not lock the door.

Father McKenzie looked up at the sound of the church doors opening; their loud, resounding creak that echoed and bounced off of the arched ceiling. He ran a hand through his graying hair and stood up from behind his desk. Cautious, he peered from behind his office door and saw Eleanor hobbling through the oak doors. He barely recognized her. She had lost a lot of weight; her once full, plump cheeks looked hollowed, wrinkled, and drooping. Her hair was unkempt, and her clothes dirty. Eleanor looked like she had been living on the streets. She stood there, still, by the open doors, and causing Father McKenzie to shiver draft emanating from the outside. He left his office to greet her by the door. "How may I help you, my child?" he asked gently

"Father?" Eleanor croaked confusedly

"Yes?"

Eleanor looked puzzled, and sat down in the nearest row of seats. Father McKenzie followed, and sat beside her, waiting patiently for her to talk. She turned towards him, her brow furrowed as she struggled to find her words. He opened his mouth to help her begin, his crooked teeth sparking a memory in the far recesses of her brain. Eleanor smiled then, truly smiled, before trying to rise as he began to speak. Father McKenzie immediately stood and grasped the old woman's hand. It was dry, cracked, and wrinkled. With his help, Eleanor rose from her seat, and shuffled towards the door. He paused, "Leaving so soon?"

Eleanor smiled, "I am ready to leave."

Father McKenzie could she was not talking about the church. "Why?" he demanded, "Why won't you stay?"

Still she smiled, "I have no reason to stay."

He began to grow annoyed with her incessant smiling. She had not repented, she had not confessed, and yet she claimed she was ready to leave this world and travel to the next! His annoyance turned to frustration, though he did not understand why. "Confess your sins, my child, before you-" he struggled for a word, "leave."

Eleanor's smile slid off her face as she became increasingly upset. Her brow furrowed again and her eyes welled with tears. Father McKenzie was shocked. What had he said to upset her? "I don't remember," she whispered, "I can't remember anything."

She looked up at him. He looked down at her. Neither had anything to say. Father McKenzie nodded and grasped Eleanor's elbow tightly, assisting her to the door. He opened the door for her, and made sure she reached the railings of the steps safely. Her withered hand held on to the balustrade and she cautiously set one slippered foot in front of the other down the steps. She saw rice on the ground. A wedding? She smiled and took her hand off the handrail to pick up a few grains.



Father McKenzie sat at his desk, writing the finishing touches of his eulogy. He had sent a message to Eleanor's remaining family but no one had responded. He read through the sermon once more before nodding in approval and placing it neatly on top of a pile of newspapers. Father McKenzie glanced at the drawer that contained the cigarettes. He reached out to open it, hesitated, and pulled. Everything was just as it had been the last time he had opened it, all of five minutes ago. He quickly grabbed the pack of cigarettes and the matchbox, as if he had a limited time to smoke all of them. He stuck a cigarette between his lips and lit a match. Father McKenzie glanced at the eulogy. He looked at the match. He shook out the match and replaced the cigarette in the drawer.



Eleanor Rigby's funeral was a quick and efficient affair. Father McKenzie gave his sermon to an audience of church mice and empty pews who listened with rapt attention. His words were standard though heartfelt, and the emotional pauses were sincere. His final sentence echoed through the church, and he stepped down to the open casket. Eleanor's body had been cleaned and clothed, paid for by Father McKenzie as none of her family was present to foot the bill. She was dressed in a neat dress suit, her hands clasped on her chest, and wore a shy, pleasant smile. Father McKenzie reached forward and touched the old woman's cheek. He felt happiness, though he did not know why.

A couple of church hands closed the casket and carried it to the cemetery behind the church. They went through their standard procedures of lowering the coffin and placing it into the freshly dug grave as Father McKenzie watched with a furrowed brow. The men looked around and handed the shovel to Father McKenzie, as no one else was in sight. He hesitated before digging the shovel into the mound of dirt beside the grave and sprinkling it over the dark coffin. One of the men then took the shovel back and proceeded to fill the grave. Father McKenzie watched for a second as the man whistled to himself and his comrades helped replace the dirt.

Father McKenzie smiled.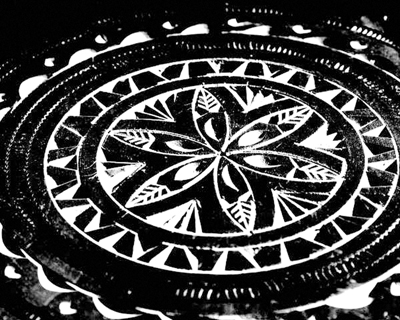 © Micha C., Toronto, ON, Canada