Helena
October 21, 2009
I had smiled, smiled so brightly on their wedding day. So joyous had I been, being married along with the Duke and my dearest friend. Surely the faerie had given me such a great blessing, to sway Demetrius's heart so. And it had been wonderful. On our honeymoon, even several months after. We were happy on his estate. Or so I thought. I was so wrong to trust those fae folk, so misled.

You see, as the months went by, my love changed. He had a peculiar light in his eyes. I wasn't allowed outside of the estate without him as my escort, and then I wasn't allowed outside the grounds at all. I was with child at the time, so I thought it normal, he wanted to keep the child safe. So I stayed in the courtyard, oblivious and humming as I picked flowers in the garden.

When the child was born, it was immediately taken away from me. I know I heard it cry, I did. But it was deemed stillborn. My husband came up to me, that mad glint in his eye, so different from before, and said, "I want to have to all to myself, don't you understand." At first I thought I misheard, that he was simply trying to make me feel better. Now I know I was wrong, and foolish to keep myself so ignorant for so long. He started to fire the help, sending all of the male workers away after one smiled and talked to me.

My husband's words grew harsher, and the glint of madness had grown. I was no longer allowed outside, though I was kept in the finest luxury. He brought me fresh flowers every day, until you could hardly walk through my room for the flowers. That's when I began to fear his visits. The number of rooms I was allowed to visit grew smaller and smaller. He said her wanted to "keep me all to himself, stop any other from drinking in my beauty".

Then he made everybody leave. He said he would clean for me, and cook. I am no longer allowed to leave the very quarters I now sit in. I fear dI shall never leave, locked in as I am. What will become of me? I write this now so that, maybe my husband will read it. And he will understand, and shake off this curse of the fickle fae. If it doesn't...there is no doubt. I will not get out of here. I will stay, cursed by a love that was once so warm and fine, now cold bars around my flesh.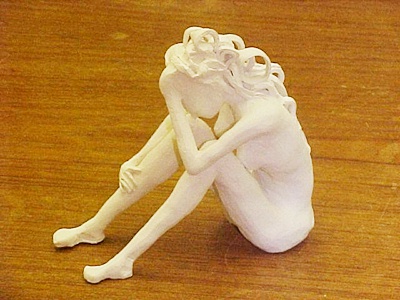 © Christine H., Brooklyn, NY