Cubicle Wars
February 11, 2009
I sat in utter silence as the three light blue cubicle walls seemingly got closer and closer to me. With both hands pristinely folded across my navy blue perfectly presses work slacks I contemplated the idea of retaliation. I looked at the 'sissy girl' drawing that had been posted outside my cubicle. I knew who had posted it.

A small click sound quickly interrupted my thoughts, this sound was fallowed by a loud chuckle. My ears perked up as I concurred the giggle came from the cubicle adjacent from my own. Jeff Johnson, the guy whose been after my chops since I has started working at Undertaker Electrical Company. The guy who had drawn the picture.

My eyes furrowed into a neat line as I stood up and looked around for signs of discord, to my displeasure none were found except for Teddy Mulberry fiddling with a pencil outside of his supervisor's office. My mouth formed a scowl as I sat back down. I found myself fiddling with my own monogrammed fountain pen.

Then at exactly 9:43 a.m. something come barreling through the air directly headed towards my face. I screamed inadvertently as the chuckling started again.

DAMNIT!' I shouted searching for the small object that had been hurled at me. I stood up once again searching the room for any persons of suspicion, I came up empty. I muttered under my breath as I returned to the floor in search of my attacker's weapon.

'What the hell's going on here?' Todd, the office manager, said as he stood at the small entrance. The top of his bald head shone magnificently as I crouched on the floor holding up the offending item, an extra large economy sized paperclip.

'Jeff's throwing things at me again.' I eyed his cubicle as menacing as I could while holding up the paperclip.

'Chris Almighty George, yesterday you claimed he was sabotaging your project and now he's launching an airborne attack on you?'

'Yes sir, you could put it that way.' I nodded, immediately noticing how ridiculous my claims sounded.

'Do you're work George.' Todd said, eyeing me with disdain. I pondered the conversation. My conclusion was a disappointing one, Todd didn't believe me.

I had no choice but to sit and wait, for I was sure the next attack was going to be soon. I was right. No less then five minutes later a paper airplane floated over ahead circling my cubicle. In an act of disparity I picked up a mini stapler with swift hands and hurled it at the flying object. The stapler missed the plain completely. I watched it soar through the air as the paper plain landed next to the photograph of my mom.

'S***!' I yelled as the stapler was now out of my view.

'DAMNIT!' I hear Todd yell from across the room.

I hear Jeff's deep throated laugh again as rage and regret both ran through my blood stream. Heavy footsteps and laughter was all I heard until I had a red faced Todd standing at my cubicle. His eyes were narrowed as his left hand lightly touched his head.

'George, fallow me please.' He pointed at me as I winced and stood up. As I walked behind him I noticed a large red purple spot upon his shiny head. Before taking seat in his office, I saw Jeff stifling a laugh in his own cubicle. He looked straight into my eyes, and winked. Isn't the nice guy supposed to win?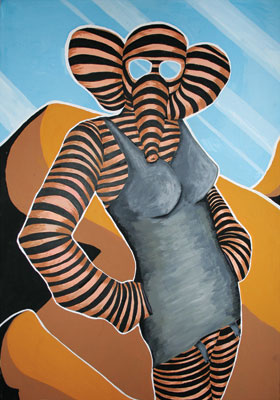 © Tiffany E., Auburn, AL