The Paradox of Life
December 12, 2013
The first thing I see when I walk through the doors is an eighty-year-old version of myself. You don't realize how strange it is to understand the concept that you will age, until you see yourself on the brink of death. The woman I look at gazes out the window, taking in what she will soon miss. How can you let go of the only thing you have known for your entire being? How can you be comforted when you don't know what is ahead?

She takes in the world outside of her, the Earth that has kept her in it's keeping for her life. This is all she has known. Yes, this is all I have known. I watch her attempt to sit up in the hospital bed, then lie back down in defeat. I hear her draw in a shaky breath, letting it out in a sigh.

"Jamie, I know you are in here," she says with a chuckle. "I was once you too, you know."

I walk forward and take her hand. Her old face looks up at me, wrinkled by the strange paradox we call life. I look into her eyes, and see the contrast. While ours are the same, hers holds a much deeper sparkle. She smiles up at me. "I know what you are thinking, love, though you don't know what I am thinking." Easing down into the rocking chair besides her bed, I ponder the thought.

"Are you okay?" I manage to say. She smiles up at me, her kind eyes knowing so much more than I.

"Yes," she says. "I am happy." I process this. Happy? Why would I be happy when I am about to leave this world forever? I am barely happy right now.

"How do I be happy too?" The words leave my mouth before I can chew on them. And before I know it, tears begin to roll down my face. I am here to witness my own death, and I can hardly be of any comfort. I see that my old face doesn't care. She understands me perfectly. She reaches up her weak arm and brushes away my tears.

"Happiness will come," she says. "Just be patient." I smile through my sobs. We sit there for a long time, in stillness, until some powerful, unseen connection between us tells me it is time for her to go.

"I'm going to miss you." She whispers as the light fades from her eyes. I smile and say, "I'm going to miss you too." She chuckles and lets out a restful sigh.

"Oh, you'll see me again one day," she assures me. "I'll come in time." And with that, she falls fast asleep and rolls into the arms of God.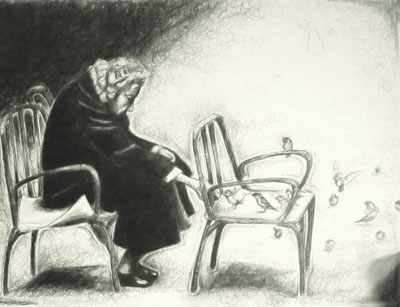 © Anna P., Poulsbo, WA