Standing Alone
November 5, 2011
He could feel it, the adrenaline pumping through his body, the way his heart pounded hard against his chest, and especially how the gun felt in his hand. Damian could hardly believe this day had come. It didn't feel real at all. He ran over the plan again and again in his head. He would wait until the halls were full of kids and teachers, then he would pull out his gun and shoot as many people as possible. After that he would put the gun to his head and end his own miserable, worthless life! Some would call this plan crazy, stupid, or mad, but he knew it was his only option; his only way out. He also knew he couldn't just take his own life; he needed to get back at all the jerks that made fun of him and mocked him day in and day out. Even those that didn't say stuff to his face; he still saw the looks they gave him and the way they would whisper and snicker as they passed by him. As far as he was concerned, no one was innocent in all of this. He could feel the sweat forming on his forehead as the realization of what he was about to do started to hit him. Just then, he knew the moment had come; he cocked the gun, took a deep breath, and, without hesitation, started shooting.


Selena drove to school in silence that morning. She liked using this time in the morning to pray and think about what the day ahead might hold. As she drove into the parking lot she saw her friend Luke. She beeped the horn and waved to him. He playfully threw himself in front of the car, pretending to get hit. Selena laughed and carefully parked her car next to his. She smiled to herself; she and Luke had been friends since junior high. That's when they first met. She could remember how scared she was that first day, thinking that she would be the only Christian in the whole school and how out of place she felt. That day at lunch she had been reading her Bible when this boy came
over and sat down across from her.


"Hi, I'm Luke, what's your name?"

"I'm Selena" she said with a shy smile.

"So, I -uh- noticed you were reading your Bible. Just a word of caution, you better not let any of the teachers see you reading it or you could get kicked out."

"Are you serious? I used to read my Bible all the time at my old school. I don't understand why they would make a rule like that! I mean, I'm not bothering anyone."

"Well, according to the principle 'someone could get offended' or 'you could be pushing your religion on someone and convert them, something like that anyway. Listen I think it's a weird rule to. I mean, I'm a Christian so I totally understand how you feel about it."

"You are? Wow, that's so cool. I thought I was the only one." She could feel her face get a little red. How could she have thought she was the only one, of course there was bound to be another Christian in a school with over four-hundred students.

Luke gave a short chuckle "Ya, I thought that too until I noticed you reading your
Bible over here."


Ever since that day she and Luke had been best friends. They did everything together and always had each others backs. She turned the car off and hopped out.



"Hey! Why don't you watch where you're driving?" He said with a lopsided grin.

"Oh, whatever, I'm a very safe driver and you know that." She said giving him a playful shove.

Luke laughed and shoved her back. "Okay, okay. So, are you ready for the big chemistry test today?"

"Um, I'm not really sure. I studied for two hours last night though."

"Wow, two hours?" He said in a questioning tone.

"Yeah. Why? How long did you study for?"

"Um, I studied for about 20 minutes and then I got distracted"

"You got distracted hugh? Ya, I bet you did." She said with a laugh.

"Hey, I gotta head to gym class; I'll meet up with you later." Selena watched him as he disappeared into a crowd of people. A group of girls passing by stopped and stared at her as if she had two heads; then they started laughing, and continued on their way. Selena was used to kids teasing her, especially about the way she dressed and acted. Kids would call her names like "pilgrim girl," and tell her how old-fashioned she looked. She just tried her best to ignore them and not let their hurtful comments get to her. As she made her way towards her locker she heard a loud bang, followed by a series of screams. Just then, she saw Luke running towards her. He grabbed her arm and kept on running, dragging her along side him.

"C'mon, we gotta go." He sounded out of breath and his voice was panicky.

"Why? What's going on?"

They ran into the library and shut the door behind them. They crawled under the big librarian's desk and tried to catch their breath.

"Luke, what's going on, what happened?" she demanded.

"There's someone out there with a gun. He's shooting everyone in sight."

"What do you mean? Luke, this kind of stuff just doesn't happen at a school like ours." Selena couldn't believe what he was telling her. It all felt like a bad dream and any minute now she was going to wake up, that had to be it.

"I know, but for some reason it did. I was heading towards the locker room when all of the sudden this kid at the far end of the hall way pulled out a gun and just started shooting! I wasn't sure what to do at first. It was chaos out there. Kids were running in every direction and people were screaming. I just turned around and started booking it back down the hallway. As I was running I noticed a lot of people just laying there in the hallway. I'm pretty sure that a lot of them were dead." His voice trailed off…
They sat in silence for what seemed like hours while the reality of what was happening slowly sank in. Luke looked over at Selena and saw that she was crying. He could see the fear written all over her face.

"Hey Sel, I know you're scared, I'm scared too, but we've got to remember that God is with us. He's bigger and more powerful than everything that's going on here. Don't worry." He reached over and gave her hand a light squeeze. "Everything's gonna be okay; I promise. I won't let anything happen to you, okay."

Selena looked up and gave him a slight smile. "Thanks, I needed to hear that." She wiped under her eyes with the sleeve of her sweater.
A few minutes past before either of them said anything. Luke finally broke the silence. "Hey Sel, I think we should pray." His voice was a soft whisper.
Selena looked over at him; she was too choked up to say anything and just nodded in agreement.

Luke bowed his head, took a slow, deep breath, and began. "Dear God, we're scared here. You know what's happening right now, and even though this came as a huge surprise to us, it was no surprise to You. You know what the outcome of this day will be. Please God, comfort us and everyone else here today. Help me and Selena to be able to help some people here today. Please God, use this whole crazy ordeal to help wake up the students and teachers in this school, help them to see how fragile and short life is and that they need to get saved now, before it's too late. We humbly ask all these things in Your name, Amen."

As Luke finished the prayer he immediately felt a calming peace, the only peace that could come from God in a time like this. He looked over at Selena and knew that she felt the same way. Over the next twenty minutes they came up with a plan. They knew what they had to do. Starting in the library, they would go around and try to help anyone who was near them. They'd comfort those who were hiding and help those who were hurt. They would gather as many people together as they could, bring them to the teachers lounge- just across the hall- and lead them out the fire escape and to safety. They didn't know it then, but their faith would soon be tested.


Damian couldn't believe how perfectly his plan had worked out. He must have shot at least 30 people including teachers. He knew that there were still so many people that he hadn't shot though and that made him mad. As he made his way around the school, he noticed that the halls were empty. "They all must be hiding in classrooms", he thought out loud, "Or maybe I'm too late; maybe they were able to escape before I could get to them." The thought infuriated him. He suddenly remembered one part of the school he hadn't checked yet, the library. Of course there would be a ton of kids hiding in the library; it was the biggest room in the whole school, and probably one of the safest. He knew that he had to act fast. He loaded the last of the bullets into his gun and took off towards the library.


Luke and Selena decided that it would be faster if they split up and each searched half of the library. They searched the library for what seemed like hours. Selena was just about to head back to the librarians desk when she heard someone crying. It wasn't loud, but she was sure she had heard it. She looked in the direction where she had heard the sound come from and it was there that she saw a girl, probably 13 years old, sitting in a corner crying. She was all alone and looked scared to death. Selena slowly made her way towards the girl, careful not to startle her.

"Hey sweetie, are you okay?" she knelt down in front of the girl.

"No. I d—don't know where my friends are and m—my arm hurts." The girl let out a small sob.

"Shhh, it's okay. Once we get out of here, we'll go get someone to help us find your friends. I'm sure they're okay though. They probably already made it out of the school and are on there way to go get some help. Selena gave the girl a small hug. "Okay, let's take a look at your arm." Selena could see that the girl's white hoodie was red with blood on her right shoulder. It was obvious what had happened, the girl had been shot. Selena tried the best she could to put a smile on and stay calm. She knew that if she freaked out it would only make things worse. "Can you tell me your name sweetie?"

"Yea, my name is Anna." She replied as she wiped her eyes.

"That's a really pretty name, my name is Selena." Selena took off her sweater and started to wrap it around the girl's arm. She had taken some safety classes last summer and knew that in order to stop the bleeding she had to apply pressure to the wounded area. She tied her sweater tightly around the girl's arm and helped her to her feet; then she led her back to where Luke and some other kids had already gathered.

"Ok, so everybody knows the plan right? We're going to go across the hall, into the teachers lounge, and out the fire escape. All right, follow me."

Just as they were heading for the door it flew open. Standing there was a kid dressed in all black, it was Damian. He had his gun pointed towards them and he looked angry.

"Okay, everybody sit against the wall, NOW! He motioned towards the wall with his gun. Then he reached down, grabbed Anna by the arm, and pulled her to her feet. He pointed the gun to her head and she started to cry.

"No man, don't do it. Please just let her go. She's just a little girl." Luke pleaded with him.

"Shut up okay! You don't know what you're talking about!"

"Please, I'm begging you. Please don't hurt her."

"Fine!" Damian threw her back onto the ground. Selena reached her arms out to Anna and held her in an embrace. Damian cocked his gun, pointed it towards them, and looked as though he was ready to shoot them all. Just then Luke did something that shocked everyone; he started singing the song "In Christ Alone".

Selena sat there in shock as she listened to Luke sing. What are you doing Luke? She thought to herself. Please stop singing. You're gonna get yourself killed! Just as soon as that thought had popped into her head, another one entered. Ugh! What's wrong with me? What am I thinking? It was then that she started to pray. Not out loud, but silently to herself. Dear God, please help me. God, I'm so scared right now! I'm afraid that I won't be able to stay strong and stand for You. Please God, comfort me and Luke, and give me the strength to stand. Amen. She immediately felt better and wondered why she hadn't thought to do that sooner. Just then her thoughts were interrupted by the sound of a gunshot. Selena could see the confusion on Damian's face and for a minute he just stared at Luke. Then his expression turned from confusion to anger. He fired another shot into the air and immediately the singing stopped. He grabbed Luke and pressed the gun to his head.

"Are you a Christian?" he asked angrily.

Luke was silent for a moment, and then he looked Damian right in the eyes, "Yes, I am."
Then, without hesitation Damian shot him in the head and let his body fall to the ground.

"No!" Selena yelled out in horror. "Oh, dear God, please help me!"
Damian's eyes darted towards her and he looked as livid as ever. He reached down and grabbed Selena's arm. She struggled against him, but he was stronger and pulled her to her feet. Selena was sobbing now. "No, please don't kill me!"

"Shut up!" Damian yelled in her face. "Are you a Christian?" he asked angrily.

"I- I'm-I mean!" Selena stumbled over her words as she tried to answer.

"Well, what is it? You are or you aren't, spit it out!"
Selena closed her eyes, and took a deep breath. Suddenly a number of thoughts flooded her mind. She thought of her parents and friends and how devastated they would be when they found out she was dead. She thought about Anna and how scared she must be right now and how she would never have a chance to get to know her. Finally she thought about Luke and how he had been so bold as he admitted to being a Christian. She opened her eyes and with a new strength she answered. "Yes."



Anna was sobbing and had her hands over her eyes when she heard a sound that sent chills down her spine. Two gunshots echoed through the library as well as the sound of bodies falling to the ground. When she looked over she saw Selena and Damian's bodies lying motionless on the floor. "No! Please don't be dead!" She crawled over to where Selena's body lay. "Please, please wake up." Her voice was a small whisper as she let her tears fall onto Selena's still body. Just then she heard some voices out in the hall. She looked up and saw a team of police officers and paramedics run by. A couple of the paramedics spotted her and immediately came rushing over to her.
"Are you okay miss?" one of them asked as he looked from her to the lifeless bodies on the ground. Anna looked up at them as tears flooded her eyes "You're too late." That was all she could get out between sobs. One of the paramedics went over to her and started tending to her arm. Anna watched as Luke, Selena, and Damian's bodies were covered with a white sheet and taken away, one by one. Anna was among many other kids who made it out alive that day. A few weeks after the shooting she was asked to do a news interview live from the school. During the interview one of the reporters asked her how she was able to make it out alive and here's what she said:
"Honestly I didn't think I was going to make it. I had been shot in the arm and was losing a lot of blood. I was sitting in a corner of the library and had pretty much given up hope when a girl named Selena came over to me. She was really nice and asked me if I was okay. She tied her sweater around my arm and stopped the bleeding. Then, when the gunman had a gun to my head and was ready to kill me her friend Luke stopped him. If it wasn't for Luke and Selena I would have died." Tears filled her eyes as she continued. "It was also because of their boldness as they admitted to being Christians that they aren't here today." Anna was silent for a minute as she tried to keep her composure.
"Is there anything else you would like to say?" the reporter asked in a compassionate voice.
"Yes. After the gunman killed Luke he put the gun to Selena's head and asked her if she was a Christian. She had a chance to deny it and live, but instead she admitted that she was a Christian and was killed. For a while I couldn't understand why she would've done that. I then came to realize that if she and Luke were both willing to die for their faith than it must be real and true. Selena taught me that it's not easy being a Christian and that at times you may have to stand alone, but if you spend your life living for God than you'll have no regrets. Because of Selena and Luke's boldness and courage I've come to know Christ as my Savior, and I know that they would want the same thing for everyone else here too." With those last words the interview came to an end.


It's been 10 years since the day of the shooting. Anna is now a missionary and tells this story everywhere she goes, and because of it many have come to know Christ as their Savior.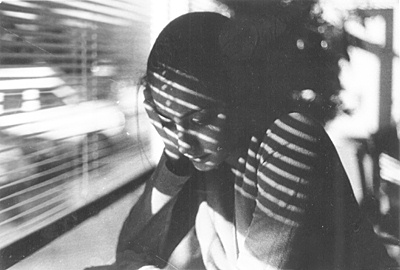 © John O., New City, NY