The faded old picture
March 1, 2010
Somewhere, in a box, there is a picture. The picture is faded, crinkled, and wreaked. The memory though, is still in my mind. The girl in the photo is my sister Hannah who used to have green eyes that everyone wanted, a laugh that made a cold, akward silence warm, and a phobia of spiders. The person in this picture is nothing like her. This person looks like a ghost with her face so pale, her green eyes closed, and her mouth that once laughed was twisted up in pain. My sister taught me something very special as she faught for her life. Hannah taught me that nothing stays the same. This picture that is somewhere in a box, reminds me of this lesson and story.





I woke to the sound of my mom sobbing in the other room, which was followed by my dads muffled voice as he tried to quiet her. I tried to block the sound out of my head and fall back asleep but my attempt failed when the hall light came on and my dad barged into the room shouting orders.

``Heather! That was the hospital! Hannah isn`t well. The doctors say she may have an hour to live. Hurry, get out to the car!``


Once the words Hannah and hospital were said I jumped out of bed, not caring that the floor was freezing cold and I had no socks on. I ran around the room throwing on a pair of shoes, not bothering to change out of my pajamas. My mom and dad had the car started and were waiting for me by the time I got outside. We had a twenty minute drive to the hospital and every minute was important. My sister Hannah could take her last breath and die within those twenty minutes. Every minute we drove ment another minute Hannah had lived.


As we drove through the city memories of me and my twin sister flooded my head. There was the time, in grade three, that a boy had made fun of my hair-cut which resulted in him needing ice for his face, which Hannah had punched. I could remember the time we snuk out of the house for the first time. We got caught and she took the blame, meanwhile it had been my idea. Hannah had gotten drunk at a party and the next day I brought her a wet cloth for her pounding head, and a bottle of tylenol. We were there for each other. She was the brave one and I was the artistic one. Once she got cancer she wasn`t so brave anymore. Hannah cried when her hair fell out. Hannah cried when she was told she relapsed. Hannah cried when she was told she`d miss junior prom. Soon I started to consider myself the new brave one. Really Hannah was the more brave one because she was going through tons of pain, pain some people in this world can`t handle. I admire her for that.


We finally made it to the hospital, where my family and I watched Hannah take her last breath. Things were never the same without her. I stopped drawing, dad started drinking, and mom would start crying, for no reason at all, at the dinner table. Through all this I realized that different people have different reactions towards death. My family took my sisters death, and instead of realizing she was in a better place, we acted like it was the worst thing in the world.


It wasn`t until I was getting ready for college that I realized Hannah wouldn`t want us to act this way. I was packing things when I found a letter from Hannah, which was left in a book as a bookmark.


I still have that letter. I am guessing it`s in the box with that worn out photo somewhere in my attic. Because of Hannah`s last letter I have learned to place the memories of her in my heart and keep it sealed. Only I know what Hannah went through in her last few months of life and I want Hannah to have a good time in heaven where she will be waiting for me to come join her.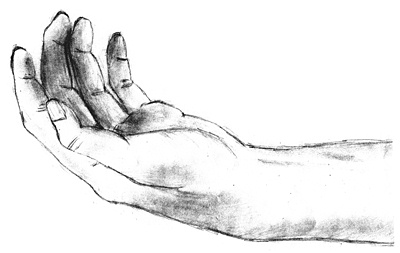 © Shana G., Cross Plains, WI