The Patriot
May 14, 2009
Mr. Patriot stood behind the curtain, with his head hung low. He was afraid, afraid of the people, afraid of the press, afraid of becoming public. He felt ridiculous in the outfit the president put him in. His chest piece was painted black and resembled football pads. The shoulders were painted blue and were connected to a cape. The cape was an American flag. Mr. Patriot heard the President speaking on the other side of the curtain. The President seemed really enthused, talking about the now public American secret weapon.

Going through all his powers and everything he has done. All the great things Mr. Patriot has done, fighting in every American war of the 20th and 21st century. Americas' allies will want him, and Americas' enemies will fear him. He will change warfare forever. Or at least that's what the president says. Mr. Patriot kept questioning if he made the right decision, listening to this new president. So many things come with becoming public, and not any of them really hit him until now. He could sense the moment was coming closer and closer when the curtain would lift.

"Without further ado, I present to you, Mr. Patriot!" The curtain lifted slowly and Mr. Patriots' nerves hit him faster than a bullet train. The curtain was at his waist and cameras were already flashing.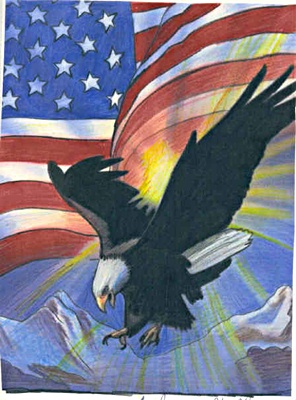 © Andrea G., Middle Village, NY