What Hides In The Darkness
April 16, 2009
The psychologist sat behind her desk, Dr. Starr, the nameplate said. There were abstract blue paintings scattered along the walls that were supposed to be calming. To Dennis they only seemed depressing. This whole darn place seemed pretty depressing to him: the waiting room, with it's pamphlets on how to handle ADD and eating disorders and the like. Isn't that the reason these people were here in the first place? Where's the miracle cure; here, pop a pill, you'll feel better. Even the smiling secretary, who seemed friendly enough, only served to deepen Dennis's already black mood. In her eyes he could see her questions. What's wrong with him? I wonder what drove his poor parents to bring him here? Blah, blah, blah, blah.

"Dennis? Hi, I'm Dr. Starr." Dennis plopped down in the cushiony chair in front of Dr. Starr's desk and fixed his stare on her, never breaking eye contact. This seemed to make Dr. Starr uncomfortable.

"Your parents believe that fourteen is much to old to sleep with a nightlight. Are you afraid of the dark?"

Dennis paused reflectively, and then he spoke, "It's not so much fear of the dark than protection against what hides in the dark." His voice was steady and perfectly lucid, not the voice of a madman. He stared into the doctor's eyes as if to say, "I'm not crazy, you have to believe me!"

"You know," Dr. Starr shifted uneasily, "it is common for teens to sometimes have…overactive imaginations–"

Dennis laughed cynically, "Is that what you think this is?"

"What hides in the dark?"

"Dangerous things."

The silence that followed was thick and heavy. Even a sharpened butcher knife wouldn't cut through it. The hour ended, and Dennis left, not feeling the "weight-off-your-chest" feeling that supposedly came with "letting it all out". In fact, he felt as if by telling her, he had only sealed his fate; he would never again be seen as a sane human being.






When he returned home Dennis found that while he was with the psychologist his father had driven home and disposed of the nightlight. Dennis panicked, but was careful not to show it, mustn't let them think him insane.

Dennis stalled for time, taking a full half hour to brush his teeth, and stayed in the den watching TV with his parents until he was finally forced to his room for the night.





Dennis pulled the covers up to his chin and turned out the light and closed his eyes so tight it hurt.

A figure appeared at the base of the bed and smiled a demon smile.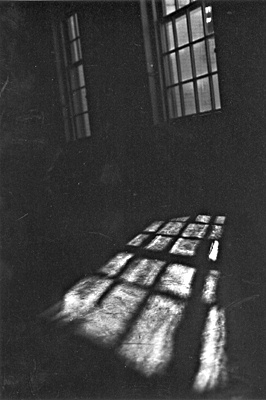 © Mary A., Fullerton, CA