Alone
July 2, 2012
I took a deep breath of the cool, crisp air. I could feel it slipping down my throat, filling my lungs and then flowing back out again. I took advantage of this time to be free. I was alone. I was always alone, and I liked it that way. The small breeze burrowed through my tangles of long, brown hair. I was having it dry after my swim in the creek. I loved my hair. I t was a part of me that would always remind me of who I really was.

The green grass tickled my bare legs as I sat on the ground. I leaned over to see a small fish in the water. Lazily I reached out a hand and darted into the cold, clear water. The shiny scales slipped between my long, thin fingers as the fish squirmed away. As the gentle ripples cleared, I caught sight of my own reflection. My tanned, angular face was framed by my long brown hair. Streaks of blonde ran through it from where the sun's rays had kissed it gently. My lips were full and set in a seriousness that rarely allowed for a smile. My narrow jaw was held in a determined fashion.

Then I looked into my eyes. A tinge of green rimmed my dark pupil, slowly changing to a strong blue. At the edges of my iris a smoky gray mist made the edges soft as it changed to the white. I had become too used to hiding myself; too used to covering up. My body ached to be free and never have to hide again. But I could not do that.

I spotted the sun in the reflection, shining in the water and I looked up. The day had started and so must I. I took one last look at my eyes. They held pain and determination, but above all, they held loneliness. I hauled myself to my feet and turned around.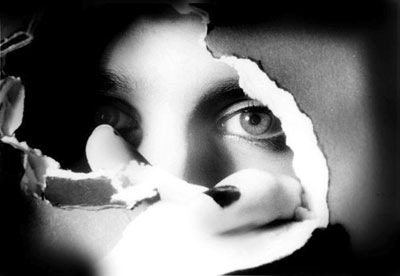 © Tabatha B., Peoria, IL